Money Hungry (Coretta Scott King Author Honor Title) (Paperback)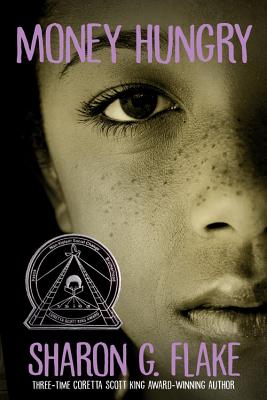 $11.99

Usually Ships in 1-5 Days
Description
---
The mesmerizing story of one girl's struggle to break her family's cycle of poverty is reissued with an arresting new cover.

Thirteen-year-old Raspberry Hill is starved for money. She will do just about anything legal to get her hands on the almighty dollar -- wash cars, sell rotten candy, skip lunch, clean houses. She is obsessed. She is driven. She is afraid. Memories of being homeless, sleeping in the streets, and eating handouts keep Raspberry's eye on the only prize that matters to her: cold, hard cash. When the green stuff greases her palm, she gets comfort from feeling its crinkly paper power. And, when money is your best friend, there's more to do than hold it. Raspberry kisses her cash. She smells it. She loves it. But even money can't answer the questions that keep Raspberry awake at night. Will she and Momma ever move out of the projects? What did Ja'nae do with the two hundred bucks Raspberry loaned her? And what's really going on with Momma and that rich doctor? A haunting story of greed and forgiveness by the award-winning author of The Skin I'm In, this unforgettable novel will keep you glued to every page. Bank on it.
About the Author
---
Sharon G. Flake has an international reputation as a top author for children and young adults. Her breakout novel, The Skin I'm In, established her as a must-read author among middle and high school students, parents, and educators. She has spoken to more than two hundred thousand young people, and hugged nearly as many. Flake has penned nine novels, numerous short stories, plays, and a picture book entitled You Are Not a Cat.

Her work has received numerous awards, such as the Coretta Scott King Honor award and the YWCA Racial Justice Award, and her books have been named to many prestigious lists, including Kirkus Review's Top Ten Books of the Year, Best Books for Young Adults by the American Library Association, Top Ten Books for the Teen Age by the New York Public Library, Top Twenty Recommended Books to Read by the Texas Library Association, 100 Books Every Teenage Girl Should Read, and Booklist Editor's Choice, among others. She lives in Pittsburgh, Pennsylvania. For more information, go to sharonflake.com, or follow her on Twitter @sharonflake.
Praise For…
---
"Flake (The Skin I'm In, 1998) gives a rock-solid portrayal of an inner-city life where money colors everything....There's a satisfying fairy-tale ending, but Flake successfully conveys a situation where life is precarious. Kids who live like Raspberry will find validation in seeing themselves sympathetically portrayed, and more pampered readers will find their eyes opened wide."—Kirkus Reviews

"The author of The Skin I'm In offers another provocative slice of city life, vibrantly evoking its sights, sounds and smells."—Publishers Weekly