Fifth-Grade Zombies (Goosebumps SlappyWorld #14) (Paperback)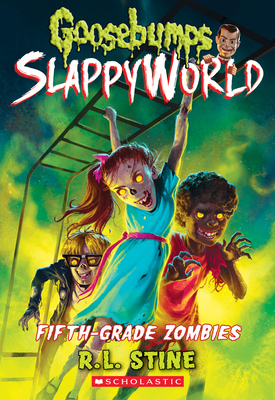 Other Books in Series
This is book number 14 in the Goosebumps SlappyWorld series.
Description
---
This is Slappy's world -- You only scream in it!Scarlett Martenson and her friends are total zombie fans! With Ross as the brains, Annie as the makeup artist, Owen as the fright master, and Scarlett as their leader, the group is unstoppable as they terrorize their unsuspecting neighbors. But when Granny Z moves into the creepy, old, abandoned house at the bottom of the hill, things get rotten for the zombie club. Can Scarlett find a way to save herself and her friends or will things continue to decay?
About the Author
---
R.L. Stine is the creator of the bestselling Goosebumps series, which has more than 400 million copies in print worldwide and celebrated 25 years in 2017. Goosebumps is one of the bestselling children's series of all-time and inspired a popular television show, as well as a feature film starring Jack Black that opened at #1 at the box office. His other popular children's books include the series Fear Street, Mostly Ghostly, The Nightmare Room, and Rotten School, and his first picture book, with Marc Brown, The Little Shop of Monsters. R.L. Stine lives in New York City. You can connect with him on Twitter at @RL_Stine or Facebook: facebook.com/rlstine. For more information, visit rlstine.com and www.scholastic.com/goosebumps.