Quidditch Through the Ages: The Illustrated Edition (Illustrated edition) (Hardcover)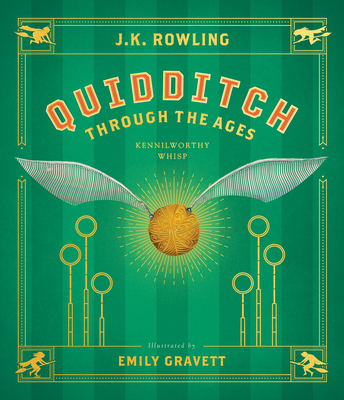 $34.99

Usually Ships in 1-5 Days
Description
---
The definitive guide to the most popular sport in J.K. Rowling's Harry Potter series, now fully illustrated by award-winning artist Emily GravettIf you have ever asked yourself where the Golden Snitch came from, how the Bludgers came into existence, or why the Wigtown Wanderers have pictures of meat cleavers on their robes, you need Quidditch Through the Ages. This invaluable volume is consulted by young Quidditch fans on an almost daily basis.Proceeds from the sale of this book will go to Comic Relief and Lumos, who will use your money to continue improving and changing lives -- work that is even more important and astonishing than the three and a half second capture of the Golden Snitch by Roderick Plumpton in 1921.Now fully illustrated in brilliant color by award-winning artist Emily Gravett, this special new edition is a beautiful gift for Harry Potter fans and Quidditch enthusiasts alike.
About the Author
---
J.K. Rowling is the author of the seven Harry Potter books, which have sold over 500 million copies, been translated into over 80 languages, and made into eight blockbuster films. She also wrote three short series companion volumes for charity, including Fantastic Beasts and Where to Find Them, which later became the inspiration for a new series of films. Harry's story as a grown-up was later continued in a stage play, Harry Potter and the Cursed Child, which J.K. Rowling wrote with playwright Jack Thorne and director John Tiffany.
In 2020, she returned to publishing for younger children with the fairy tale The Ickabog, which she initially published for free online for children in lockdown, later donating all her book royalties to help vulnerable groups affected by the Covid-19 pandemic.
J.K. Rowling has received many awards and honors for her writing, including for her detective series written under the name Robert Galbraith. She supports a wide number of humanitarian causes through her charitable trust Volant, and is the founder of the children's care reform charity Lumos.
For as long as she can remember, J.K. Rowling wanted to be a writer, and is at her happiest in a room, making things up. She lives in Scotland with her family.