Nikki Tesla and the Ferret-Proof Death Ray (Elements of Genius #1) (Paperback)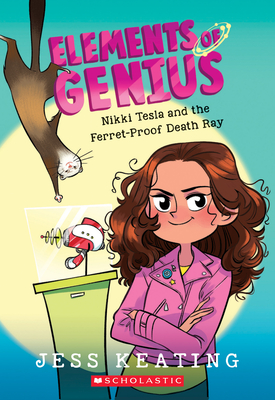 $8.99
Email or call for price.
Other Books in Series
This is book number 1 in the Elements of Genius series.
Description
---
"Let the official record show that, I, Nikki Tesla, did not intend to destroy the world."
There are only so many times a kid can invent an instrument of global destruction without getting grounded. So when Nikki's death ray accidentally blows up her bedroom (if you can call a pet ferret with an itchy trigger finger an accident), she's sent to the only place that can handle her. Genius Academy is a school for history's greatest brains. Leo da Vinci? Charlotte Darwin? Bert Einstein? All extraordinary. Yet even among her fellow prodigies, Nikki feels like an outsider thanks to a terrible secret she can't let anyone discover. Ever.
But when her death ray is stolen, Nikki must stop worrying about fitting in and learn to play nice with her new classmates. Because it doesn't take a genius to track a thief around the world, outwit the authorities, and keep a French fry-fanatic ferret happy. It takes all of them.
About the Author
---
As a zoologist and author, Jess Keating has been sprayed by skunks, bitten by crocodiles, and victim of the dreaded paper cut. Her books blend science, humor, and creativity, and include the acclaimed My Life Is a Zoo middle-grade trilogy and award-winning picture books, like Shark Lady and Pink Is for Blobfish. Jess lives in Ontario, Canada, where she loves hiking, nerdy documentaries, and writing books for curious and adventurous kids. Jess can be found online at www.jesskeatingbooks.com or on Twitter at @Jess_Keating.
Originally from the Dominican Republic, illustrator Lissy Marlin has a simple mission: bring a little bit of magic to everyday life one piece of art at a time! She lives in Philadelphia, Pennsylvania.
Praise For…
---
Praise for Elements of Genius #1: Nikki Tesla and the Ferret-Proof Death Ray:
Short-listed, Sunburst Award, Young Adult category, 2020
Commended, Best Books for Kids and Teens, Canadian Children's Book Centre, Starred Selection, 2020
* "Full STEAM ahead on a series debut equally charged with personal issues and science in (dramatic) action." -- Kirkus Reviews, starred review
"Keating's action-packed mystery... combines intelligence with superhero appeal. Nikki's comical narration is printed on graph-paper pages and embellished by illustrations, all of which give STEM a fun new spin." -- Booklist
"Nikki is a heroine readers will want to tag along with in the promised series... [which] calls up Disney's Kim Possible, an apt echo as fans of that show will enjoy the female-led action here." -- The Bulletin of the Center for Children's Books
"This fast-paced caper features plot twists galore and a main character who confronts her past and learns that she can make friends along the way. A lively series kick-off." -- Publishers Weekly
Praise for My Life Is a Zoo series:
* "Humor, poignancy and fascinating zoological facts infuse the narrative with a warm conversational tone that welcomes readers into the drama that is middle school." -- Kirkus Reviews, starred review
* "With her trademark kid-oriented wit and lighthearted touch, Keating leads readers through the daily emotional ups and downs of the typical just-turned-teenager." -- Kirkus Reviews, starred review
Praise for Elements of Genius #1: Nikki Tesla and the Ferret-Proof Death Ray:
Short-listed, Sunburst Award, Young Adult category, 2020
Commended, Best Books for Kids and Teens, Canadian Children's Book Centre, Starred Selection, 2020
* "Full STEAM ahead on a series debut equally charged with personal issues and science in (dramatic) action." -- Kirkus Reviews, starred review
"Keating's action-packed mystery... combines intelligence with superhero appeal. Nikki's comical narration is printed on graph-paper pages and embellished by illustrations, all of which give STEM a fun new spin." -- Booklist
"Nikki is a heroine readers will want to tag along with in the promised series... [which] calls up Disney's Kim Possible, an apt echo as fans of that show will enjoy the female-led action here." -- The Bulletin of the Center for Children's Books
"This fast-paced caper features plot twists galore and a main character who confronts her past and learns that she can make friends along the way. A lively series kick-off." -- Publishers Weekly
Praise for My Life Is a Zoo series:
* "Humor, poignancy and fascinating zoological facts infuse the narrative with a warm conversational tone that welcomes readers into the drama that is middle school." -- Kirkus Reviews, starred review
* "With her trademark kid-oriented wit and lighthearted touch, Keating leads readers through the daily emotional ups and downs of the typical just-turned-teenager." -- Kirkus Reviews, starred review