Out of This World (Hardcover)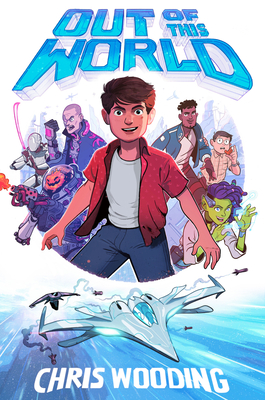 $18.99
Email or call for price.
Description
---
The Hitchhiker's Guide to the Galaxy meets Guardians of the Galaxy in this intergalactic middle-grade adventure by Chris Wooding.If he had it his way, Jack would spend his days drawing aliens and epic space battles. But it seems Jack's daydreams of action and adventure will remain just that: daydreams.Until his 12th birthday, that is. That's when Thomas, the annoying kid from school, stumbles upon a weird machine that sends a beam of light into the sky. Suddenly, Jack's world is turned upside down when intergalactic beings appear on Earth and try to kill him. His only hope for survival is a ragtag team of alien bounty hunters: Boston Sark, Mazzy, Dunk, and Ilara. Through his new companions, Jack learns of the mysterious Gradius Clench, a precocious superspy and the universe's most wanted kid. And he looks just like Jack! Now, the race is on to find this elusive Gradius Clench -- through fantastic landscapes, seedy pirate hideaways, and worlds Jack could only imagine -- and maybe, just maybe, figure out how Jack fits into all of this...
About the Author
---
Chris Wooding began writing at the age of 16, and his first novel, Crashing, was published when he was 19. Since that time, he's written dozens of novels in several genres, notably the award-winning The Haunting of Alaizabel Cray, Poison, Storm Thief, the Malice series, the graphic novel Pandemonium, Silver, and Velocity.
Praise For…
---
Praise for Velocity:* "An action-packed, wild ride with unexpected twists and turns and characters readers care about -- call it a dystopia with heart." -- Kirkus Reviews, starred review* "With the dystopian setting, fiercely resourceful heroines, fast cars, and an explosive climax, Wooding's story is perfect for fans of Mad Max: Fury Road, but it carves out its own identity along the way." -- Publishers Weekly, starred review"Dystopian fans will relish a new, unexplored world." -- School Library JournalPraise for Silver:* "Wooding has morphed a traditional English boarding school story... into a horror/survival story that would make William Golding and Gary Paulsen envious... Carve out enough time to read Silver in a single sitting. You'll need it." -- Booklist, starred reviewPraise for Storm Thief:* "This stunning work of speculative fiction will appeal to Wooding's fans and earn him new ones." -- Kirkus Reviews, starred reviewPraise for Poison:* "A compelling read." -- Kirkus Reviews, starred review"Each scene of danger sings with tension. Lovers of adventure, horror, and suspense should keep an eye on this talented author." -- Horn Book MagazinePraise for The Haunting of Alaizabel Cray:* "An imaginative tour de force." -- Publishers Weekly, starred review* "Eerie and exhilarating." -- School Library Journal, starred review* "Readers will get finger cramps from rapidly turning the pages of Wooding's gripping tale." -- Kirkus Reviews, starred review

Praise for Velocity:* "An action-packed, wild ride with unexpected twists and turns and characters readers care about -- call it a dystopia with heart." -- Kirkus Reviews, starred review* "With the dystopian setting, fiercely resourceful heroines, fast cars, and an explosive climax, Wooding's story is perfect for fans of Mad Max: Fury Road, but it carves out its own identity along the way." -- Publishers Weekly, starred review"Dystopian fans will relish a new, unexplored world." -- School Library JournalPraise for Silver:* "Wooding has morphed a traditional English boarding school story... into a horror/survival story that would make William Golding and Gary Paulsen envious... Carve out enough time to read Silver in a single sitting. You'll need it." -- Booklist, starred reviewPraise for Storm Thief:* "This stunning work of speculative fiction will appeal to Wooding's fans and earn him new ones." -- Kirkus Reviews, starred reviewPraise for Poison:* "A compelling read." -- Kirkus Reviews, starred review"Each scene of danger sings with tension. Lovers of adventure, horror, and suspense should keep an eye on this talented author." -- Horn Book MagazinePraise for The Haunting of Alaizabel Cray:* "An imaginative tour de force." -- Publishers Weekly, starred review* "Eerie and exhilarating." -- School Library Journal, starred review* "Readers will get finger cramps from rapidly turning the pages of Wooding's gripping tale." -- Kirkus Reviews, starred review