Game of Stars (Kiranmala and the Kingdom Beyond #2) (Paperback)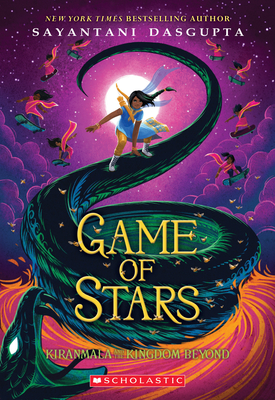 $8.99

Usually Ships in 1-5 Days
Description
---
Saving the multiverse is no game in this New York Times bestseller!
When the Demon Queen shows up in her bedroom, smelling of acid and surrounded by evil-looking bees, twelve-year-old Kiranmala is uninterested. After all, it's been weeks since she last heard from her friends in the Kingdom Beyond, the alternate dimension where she was born as an Indian princess. But after a call to action over an interdimensional television station and a visit with some all-seeing birds, Kiran decides that she has to once again return to her homeland, where society is fraying, a terrible game show reigns supreme, and friends and foes alike are in danger. Everyone is running scared or imprisoned following the enactment of sudden and unfair rules of law.
However, things are a lot less clear than the last time she was in the Kingdom Beyond. Kiran must once again solve riddles and battle her evil Serpent King father -- all while figuring out who her true friends are, and what it really means to be a hero.
About the Author
---
Sayantani DasGupta is the New York Times bestselling author of the critically acclaimed Bengali folktale and string theory-inspired Kiranmala and the Kingdom Beyond books, the first of which -- The Serpent's Secret -- was a Bank Street Best Book of the Year, a Booklist Best Middle Grade Novel of the 21st Century, and an E. B. White Read Aloud Honor Book. She is also the author of Debating Darcy, a contemporary young adult reimagining of Jane Austen's Pride and Prejudice. Sayantani is a pediatrician by training, but now teaches at Columbia University. When she's not writing or reading, Sayantani spends time watching cooking shows with her trilingual children and protecting her black Labrador retriever Khushi from the many things that scare him, including plastic bags. She is a team member of We Need Diverse Books, and can be found online at sayantanidasgupta.com and on Twitter at @sayantani16.
Praise For…
---
Praise for Game of Stars (Kiranmala and the Kingdom Beyond #2):"A must-read for every aspiring Demon Slayer!" -- Soman Chainani, New York Times bestselling author of The School for Good and Evil* "DasGupta once again wittily meshes Bengali folktales, intergalactic science, and a spectacular world of her own creation in a yarn that is part hero's quest, part immigrant coming-of-age tale." -- Kirkus Reviews, starred review* "Action-packed." -- School Library Journal, starred review"Game of Stars [is] a fun, funny adventure, more exciting than an auto rickshaw ride across dimensions. More Kiranmala, please!" -- Tracy Baptiste, New York Times bestselling author of The Jumbies"I love this series." -- Adam Gidwitz, Newbery Honor-winning author of The Inquisitor's Tale and A Tale Dark and Grimm Praise for The Serpent's Secret (Kiranmala and the Kingdom Beyond #1):* "Will appeal to those who like their adventures fast and furious." -- School Library Journal, starred review* "This is a series starter that rivals Rick Riordan's The Lightning Thief. A breathtaking adventure." -- Booklist, starred review"A refreshing take on the hero's quest... laugh-out-loud funny and extremely engaging." -- Kirkus Reviews"Never a dull moment for our ordinary-girl-turned-demon-fighting-princess Kiranmala in this hilarious, action-packed romp. Also, there is snot. It's, like, everywhere. This combination of crucial elements is everything I love in a book. A brilliant beginning to a fresh (and potentially sticky) new series!" -- Lisa McMann, New York Times bestselling author of The Unwanteds

Praise for Game of Stars (Kiranmala and the Kingdom Beyond #2):"A must-read for every aspiring Demon Slayer!" -- Soman Chainani, New York Times bestselling author of The School for Good and Evil* "DasGupta once again wittily meshes Bengali folktales, intergalactic science, and a spectacular world of her own creation in a yarn that is part hero's quest, part immigrant coming-of-age tale." -- Kirkus Reviews, starred review* "Action-packed." -- School Library Journal, starred review"Game of Stars [is] a fun, funny adventure, more exciting than an auto rickshaw ride across dimensions. More Kiranmala, please!" -- Tracy Baptiste, New York Times bestselling author of The Jumbies"I love this series." -- Adam Gidwitz, Newbery Honor-winning author of The Inquisitor's Tale and A Tale Dark and Grimm Praise for The Serpent's Secret (Kiranmala and the Kingdom Beyond #1):* "Will appeal to those who like their adventures fast and furious." -- School Library Journal, starred review* "This is a series starter that rivals Rick Riordan's The Lightning Thief. A breathtaking adventure." -- Booklist, starred review"A refreshing take on the hero's quest... laugh-out-loud funny and extremely engaging." -- Kirkus Reviews"Never a dull moment for our ordinary-girl-turned-demon-fighting-princess Kiranmala in this hilarious, action-packed romp. Also, there is snot. It's, like, everywhere. This combination of crucial elements is everything I love in a book. A brilliant beginning to a fresh (and potentially sticky) new series!" -- Lisa McMann, New York Times bestselling author of The Unwanteds