The Incredible Magic of Being (Paperback)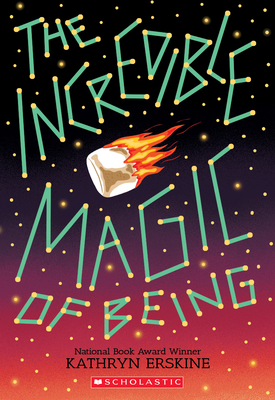 $7.99
Email or call for price.
Description
---
National Book Award winner Kathryn Erskine delivers a contemporary story about a boy with a mystical worldview and a love of science and comets as he faces questions about what makes him special.Some might say Julian is sheltered. But he lives large, and his eternal optimism allows him to see infinite possibilities wherever he looks. Despite his optimism, he is anxious about his stressed family falling apart. Even his ability to "uni-sense" what's happening with his sister is gone. If he can make his family focus on the magic in the universe, surely they'll appreciate life again. Now that they are moving from Washington, DC, to rural Maine, Julian can use his beloved telescope without any light pollution. He can discover a comet, name it for himself, and show his family how they're all truly connected.As Julian searches the night sky, he encounters a force that may drive his plan apart. His neighbor, Mr. X, could bring an end to his parents' dream of opening their B&B. Could one negative force unravel everything? An avid student of science, Julian understands that there is much about the universe that we don't yet know. Who is to say what's possible and what's not?
About the Author
---
Kathryn Erskine is the acclaimed author of many distinguished novels for young readers, including Mockingbird, winner of the National Book Award; Seeing Red, a Jane Addams Honor Book; The Badger Knight, lauded by Publishers Weekly as a book to "captivate readers"; The Absolute Value of Mike, an Amazon Best Book and ALA Notable Book; and Quaking, an ALA Top Ten Quick Pick for Reluctant Readers. Kathryn lives and writes in central Virginia, and travels the world to talk about writing and seek out more stories.
Praise For…
---
Praise for The Incredible Magic of Being:"Julian's distinctive narration, awash in supernatural perceptions as well as a nine-year-old's natural misconceptions, is a tour de force... Touching contemporary magical realism, with a final twist that truly surprises." -- School Library Journal "A timeless and affecting, slightly paranormal exploration of familial attachments." -- Kirkus ReviewsPraise for Mockingbird:Winner of the National Book Award"Allusions to Harper Lee's To Kill a Mockingbird, the portrayal of a whole community's healing process, and the sharp insights into Caitlyn's behavior enhance this fine addition to the recent group of books with narrators with autism and Asperger's." -- Booklist"A valuable book." -- School Library Journal"A strong and complex character study." -- The Horn Book"Julian really is a thoughtful, engaging narrator and kids will enjoy hanging out with him in this or any other universe." -- Bulletin of the Center for Children's Books

Praise for The Incredible Magic of Being:"Julian's distinctive narration, awash in supernatural perceptions as well as a nine-year-old's natural misconceptions, is a tour de force... Touching contemporary magical realism, with a final twist that truly surprises." -- School Library Journal "A timeless and affecting, slightly paranormal exploration of familial attachments." -- Kirkus ReviewsPraise for Mockingbird:Winner of the National Book Award"Allusions to Harper Lee's To Kill a Mockingbird, the portrayal of a whole community's healing process, and the sharp insights into Caitlyn's behavior enhance this fine addition to the recent group of books with narrators with autism and Asperger's." -- Booklist"A valuable book." -- School Library Journal"A strong and complex character study." -- The Horn Book"Julian really is a thoughtful, engaging narrator and kids will enjoy hanging out with him in this or any other universe." -- Bulletin of the Center for Children's Books