Hero Dog!: A Branches Book (Hilde Cracks the Case #1) (Paperback)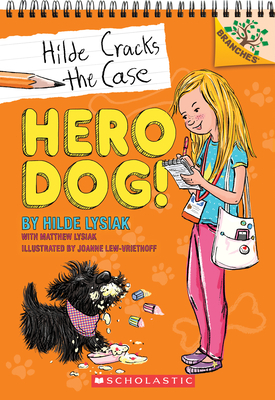 $5.99
Usually Ships in 1-5 Days
Description
---
Real-life super-sleuth and media sensation Hilde Lysiak's reporting skills are put to the test in this fun early chapter book mystery series!Pick a book. Grow a Reader!This series is part of Scholastic's early chapter book line Branches, aimed at newly independent readers. With easy-to-read text, high-interest content, fast-paced plots, and illustrations on every page, these books will boost reading confidence and stamina. Branches books help readers grow!Nine-year-old crime reporter Hilde Lysiak is starring in her very own early chapter book series -- inspired by news stories Hilde wrote in real life! In this first book, there's been a break-in on Orange Street! Cupcakes have been stolen, and soon a pie goes missing, too. Hilde and her sister/photographer, Izzy, must interview witnesses and follow the clues. Can Hilde crack the case in time to post her news story online? Joanne Lew-Vriethoff's personality-filled illustrations appear on every page, bringing Hilde's adventures to life for young readers!
About the Author
---
Hilde Lysiak is the 11-year-old publisher of Selinsgrove, Pennsylvania's newspaper, the IOrange Street News/I. The paper has 700+ paid subscribers and is read by thousands more online. Hilde's journalism efforts have been profiled by the INew York Times/I, IColumbia Journalism Review/I, NBC IToday/I, and hundreds of other newspapers and television stations around the world. Hilde is cowriting the Scholastic Branches series Hilde Cracks the Case with her dad, Matthew Lysiak.

Matthew Lysiak is a nationally recognized journalist and author. He has reported for the INew York Daily News/I, INewsweek/I, the INew York Sun/I, IAM New York/I, and the IGuardian/I. He has also appeared as a contributor on IThe Today Show/I, MSNBC, and countless other media outlets to discuss his work. He coauthored the young adult memoir of teen scientist Jack Andraka, IBreakthrough: How One Teen Innovator Is Changing the World/I, and was the author of INewtown: An American Tragedy/I. Matthew is cowriting the Branches early chapter book series Hilde Cracks the Case with his daughter, Hilde Kate Lysiak.

Joanne Lew-Vriethoff is the acclaimed illustrator of many picture books, including IBeautiful/I by Stacy McAnulty, named among ISchool Library Journal/I's 2016 Books with a Message. She is a Mom's Choice Gold Award medal winner whose illustrations can be found in IThe Dancing Pancake/I by Eileen Spinelli and IPeace, Baby!/I by Linda Ashman. Joanne also is the illustrator of the Hilde Cracks the Case series by Hilde Lysiak. She lives in Amsterdam with her husband and two children.
Praise For…
---
Praise for Hero Dog! (Hilde Cracks the Case #1):"This mystery series is sure to win over readers diving into beginning chapter books. Like other titles in the 'Branches' line, pictures and text work together to tell the story. Fast-paced action helps maintain budding readers' attention. Pages from Hilde's notebook introduce new vocabulary and model questioning. The right amount of support and repetition is given for students transitioning into a more independent phase of reading, and many will find themselves working to solve the mystery alongside the protagonist. Teachers will appreciate using this series to teach questioning words.... VERDICT: A solid addition to most chapter book collections, especially where there are mystery fans." -- School Library Journal"It's a light, quick-moving mystery, and the young author's backstory will undoubtedly inspire many aspiring writers, reporters, and sleuths." -- Publisher's Weekly"Entertaining and fast-paced." -- Kirkus ReviewsPraise for Branches books:"A nice stepping stone to more advanced chapter books." -- Booklist

Praise for Hero Dog! (Hilde Cracks the Case #1):"This mystery series is sure to win over readers diving into beginning chapter books. Like other titles in the 'Branches' line, pictures and text work together to tell the story. Fast-paced action helps maintain budding readers' attention. Pages from Hilde's notebook introduce new vocabulary and model questioning. The right amount of support and repetition is given for students transitioning into a more independent phase of reading, and many will find themselves working to solve the mystery alongside the protagonist. Teachers will appreciate using this series to teach questioning words.... VERDICT: A solid addition to most chapter book collections, especially where there are mystery fans." -- School Library Journal"It's a light, quick-moving mystery, and the young author's backstory will undoubtedly inspire many aspiring writers, reporters, and sleuths." -- Publisher's Weekly"Entertaining and fast-paced." -- Kirkus ReviewsPraise for Branches books:"A nice stepping stone to more advanced chapter books." -- Booklist