Gamer Army (Paperback)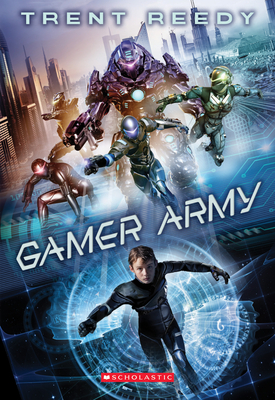 $10.99
Email or call for price.
Description
---
In this timely and thrilling novel, Ender's Game meets Ready Player One and several terabytes of fast-paced video game action as five gamers are recruited into a tech giant's secret program.After Rogan Webber levels up yet again on his favorite video game, Laser Viper, the world-famous creator of the game invites him to join the five best players in the country for an exclusive tournament. The gamers are flown to the tech mogul's headquarters, where they stay in luxury dorms and test out cutting edge virtual-reality gaming equipment, doing digital battle as powerful fighting robots. It's the ultimate gaming experience.But as the contest continues, the missions become harder, losing gamers are eliminated, and the remaining contestants face the growing suspicion that the game may not be what it seems. Why do the soldiers and robots they fight in Laser Viper act so weird? What's behind the strange game glitches? And why does the game feel so... real?Rogan and his gamer rivals must come together, summoning the collective power of their Gamer Army to discover the truth and make things right... in a dangerous world where video games have invaded reality.
About the Author
---
Trent Reedy is the author of Divided We Fall, Burning Nation, and The Last Full Measure, a trilogy about the second American Civil War; If You're Reading This; Stealing Air; and Words in the Dust, which was the winner of the Christopher Medal and an Al Roker's Book Club pick on the Today show. Trent and his family live near Spokane, Washington. Please visit his website at www.trentreedy.com.
Praise For…
---
Praise for Trent ReedyGamer Army "[A] fast-paced narrative tailor-made for gamers." -- Kirkus Reviews"[T]his fills a niche market in middle-grade science fiction and will appeal to young gamers." -- Booklist "Reedy offers a diverse cast and an over-the-top sense of excitement." -- Publishers WeeklyStealing Air"Part Hardy Boys, part Gary Paulsen, part Skateboard Magazine for Kids, this can appeal to mechanical-minded, skateboarding enthusiasts." -- Kirkus Reviews"[Reedy] nails the angst of the middle-school lunchroom, the tentativeness of a first boy-girl relationship, and the mood of a family who has pulled up their roots for a new opportunity that's not going as well as hoped. This is a solid story that will ring true to readers for many years to come." -- School Library JournalWords in the Dust"An inside look at an ordinary Afghanistan family trying to survive in extraordinary times, it is both heart-wrenching and timely." -- Kirkus Reviews"Infused with poetry, and wrought with hardship, the story gives a bleak, but ultimately hopeful, portrayal of girlhood in Afghanistan. It is full of hard truths, painful lessons, beautiful human interaction, and the promise of possibility." -- School Library Journal"Reedy's narrative offers hope and will go a long way toward helping readers understand the people behind the headlines." -- Publishers Weekly

Praise for Trent ReedyGamer Army "[A] fast-paced narrative tailor-made for gamers." -- Kirkus Reviews"[T]his fills a niche market in middle-grade science fiction and will appeal to young gamers." -- Booklist "Reedy offers a diverse cast and an over-the-top sense of excitement." -- Publishers WeeklyStealing Air"Part Hardy Boys, part Gary Paulsen, part Skateboard Magazine for Kids, this can appeal to mechanical-minded, skateboarding enthusiasts." -- Kirkus Reviews"[Reedy] nails the angst of the middle-school lunchroom, the tentativeness of a first boy-girl relationship, and the mood of a family who has pulled up their roots for a new opportunity that's not going as well as hoped. This is a solid story that will ring true to readers for many years to come." -- School Library JournalWords in the Dust"An inside look at an ordinary Afghanistan family trying to survive in extraordinary times, it is both heart-wrenching and timely." -- Kirkus Reviews"Infused with poetry, and wrought with hardship, the story gives a bleak, but ultimately hopeful, portrayal of girlhood in Afghanistan. It is full of hard truths, painful lessons, beautiful human interaction, and the promise of possibility." -- School Library Journal"Reedy's narrative offers hope and will go a long way toward helping readers understand the people behind the headlines." -- Publishers Weekly