Bluecrowne: A Greenglass House Story (Hardcover)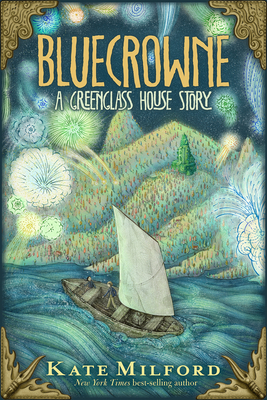 $17.99

Usually Ships in 1-5 Days
Description
---
Return to the world of the bestselling Greenglass House, where smugglers, magic, and pyrotechnics mix, in a new adventure from a New York Times best-selling, National Book Award–nominated, and Edgar Award–winning author.
Lucy Bluecrowne is beginning a new life ashore with her stepmother and half brother, though she's certain the only place she'll ever belong is with her father on a ship of war as part of the crew. She doesn't care that living in a house is safer and the proper place for a twelve-year-old girl; it's boring. But then two nefarious strangers identify her little brother as the pyrotechnical prodigy they need to enact an evil plan, and it will take all Lucy's fighting instincts to keep her family together.
Set in the magical Greenglass House world, this action-packed tale of the house's first inhabitants reveals the origins of some of its many secrets.
About the Author
---
Kate Milford is the New York Times best-selling author of the Edgar Award–winning, National Book Award nominee Greenglass House, as well as Ghosts of Greenglass House, Bluecrowne, The Thief Knot, and many more. She lives with her family in Brooklyn, New York. www.greenglasshousebooks.com and www.katemilfordwritesbooks.com,
Twitter: @KateMilford
Praise For…
---
"Milford tucks strange places, odd artifacts, and people with mysterious pasts into a suspenseful tale properly supplied with sinister villains, clever twists, large explosions, and heartbreaking sacrifices...A tale to sweep new and confirmed fans into the author's distinctively imagined blend of history, magic, mythology, chemistry, and nautical lore. " — Kirkus Reviews (starred review)
"The engrossing adventure, as well as the thoughtful depiction of a blended, multicultural family, are all draws enough on their own, but the glimpse of Milford's bewitching world-building will leave readers eager to track down her other novels." — Booklist (starred review)
"...Resplendent with time travel, Chinese folklore, nautical explanations, and the history of Nagspeake. This is a sophisticated tale filled with masterful world building, time travel, science, and nautical life." — School Library Journal