Snared: Escape to the Above (Wily Snare #1) (Paperback)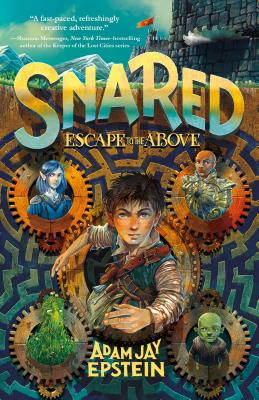 $7.99
Usually Ships in 1-5 Days
Other Books in Series
This is book number 1 in the Wily Snare series.
Description
---
Snared: Escape to the Above is the first book in a new middle-grade fantasy adventure series from bestselling author Adam Jay Epstein.

Chopping blades, scorpion nests, giant spiderwebs—no one makes traps better than Wily Snare.

He has never seen the sun, or blue sky, or even his parents. Wily Snare lives underground, creating traps to keep treasure-seekers away from the gold in an ancient wizard's dungeon. He spends his days mopping up giant slug slime, avoiding poison darts, and herding undead skeletons. It's all he knows.

Until an unusual band of adventurers—an acrobatic elf, a warrior with a magic arm, and a giant made of moss—successfully defeat Wily's traps. And they want the ultimate treasure: Wily himself. His skills can help them invade every other dungeon in the kingdom. He might even aid their fight against the Infernal King, whose gearfolk and prisonauts terrorize the land.

But for a boy who has never been outside, dungeons aren't nearly as scary as the world above. Or an evil king who builds the trickiest traps of all . . .

An Imprint Book

A Junior Library Guild Selection

"A fast-paced, refreshingly creative adventure that will thrill readers from the very first page." —Shannon Messenger, New York Times bestselling author of the Keeper of the Lost Cities series and the Sky Fall series

"An imaginative blast of dungeon-crawling adventure with hilarious monsters and dastardly traps. Zany, heartfelt fun for everyone." —Lou Anders, author of the Thrones and Bones series
About the Author
---
Adam Jay Epstein spent his childhood in Great Neck, New York, when he wasn't aboard his father's sailboat. He spent many days sitting in the neighborhood park, traveling to fantasy lands in his head (occasionally when he was supposed to be doing his homework). In college, he circled the world on a ship and studied film at Wesleyan University. He is the co-author of the internationally bestselling middle grade fantasy series The Familiars, the middle-grade sci-fi series Starbounders, and the middle grade fantasy series Snared. He has written film and television projects for Disney, Sony, Fox, MGM, Paramount, MTV, HULU, SYFY, and Disney Channel. He currently lives in Los Angeles with his wife, two daughters, and dog, Pixel.
Praise For…
---
A Junior Library Guild Selection

"A fast-paced, refreshingly creative adventure that will thrill readers from the very first page." —Shannon Messenger, New York Times bestselling author of the Keeper of the Lost Cities series and the Sky Fall series

"An imaginative blast of dungeon-crawling adventure with hilarious monsters and dastardly traps. Zany, heartfelt fun for everyone." —Lou Anders, author of the Thrones and Bones series

"Snared is chock-full of quirky characters, fantastic world building, and wild, hilarious adventure with every turn of the page. I loved it and kids will love it too!"—Liesl Shurtliff, New York Times bestselling author of Rump

"Pure dungeon-crawling fun. Witty and page-turning, I never knew what cheerful mayhem was waiting just around the bend. I can't recommend it enough." —Zack Loran Clark, coauthor of The Adventurers Guild

"A thrilling fantasy adventure full of humor and heart. Adam Jay Epstein has created a fun, magical world readers will want to stay lost in." —Jeff Garvin, author of Symptoms of Being Human