5 More Sleeps 'til Christmas (Hardcover)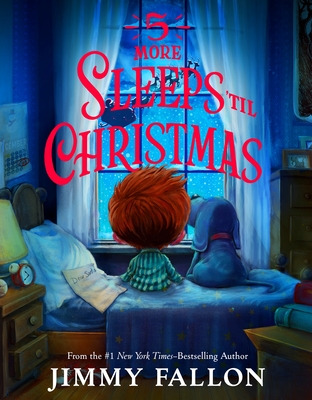 $18.99

Usually Ships in 1-5 Days
Description
---
Host of NBC's The Tonight Show and three-time #1 New York Times-bestselling author Jimmy Fallon returns with this sweet and spirited Christmas picture book.

Just 5 more sleeps 'til Christmas!
Can you believe it's here?
I know that Santa's coming soon
'cause I've been good all year.

Everyone who grew up celebrating Christmas remembers the excitement that built up to the most magical day of the year. But why not make the last week until Christmas more fun by counting how many sleeps until the arrival of Santa and his reindeer?

Accompanied by the beautiful and energetic artwork of Rich Deas, enjoy the humor of Jimmy Fallon as he prepares readers for the most exciting week of the year in this new holiday tradition for your family—5 More Sleeps 'til Christmas.
About the Author
---
Host of The Tonight Show Jimmy Fallon pays tribute to all of the NANAs out there. Whether you call her Grandma, Gram, Gammy, GiGi, Meemaw, Abuela or Bubbie - there's nothing like a NANA's love.

Jimmy Fallon lives in New York with his wife Nancy, daughters Winnie and Franny and their dog Gary. His previous books in the series, Your Baby's First Word Will be DADA, Everything Is MAMA and This is BABY were #1 New York Times bestsellers and his most recent #1 bestselling children's book 5 More Sleeps 'til Christmas has quickly become a new holiday tradition.
Rich Deas is a designer, illustrator, and currently the creative director at Macmillan Children's Publishing in NYC. He has designed hundreds of book covers and is the illustrator of
10 Fat Turkeys.
Rich resides in Glen Ridge, NJ with his wife and two sons.
Praise For…
---
Praise for 5 More Sleeps 'til Christmas:

#1 New York Times bestseller!
An ABA Indies Bestseller!
A Publishers Weekly Bestseller!

"The vivid colors and expressive illustrations in this book place the reader inside the pages of the story, empathizing with the boy's impatience as the story progresses. ... The short, rhyming text is enjoyable for both children and adults; balanced, four-line rhymes are used throughout the book, making the story ideally suited to be read aloud. This light, silly book is a fun addition to the canon of commercial Christmas stories for elementary readers." —School Library Journal

Praise for This Is Baby:

#1 New York Times bestseller!

"The team behind Everything Is Mama returns with another simple, colorful picture book likely to delight toddlers." —Publishers Weekly

Praise for Everything Is Mama:

#1 New York Times bestseller!

Praise for Your Baby's First Word Will Be DADA:

#1 New York Times bestseller!

"A punchy and deceptively simple story that will make for some fun readalouds."—Publishers Weekly

"Children of all ages can glean knowledge and enjoyment from this book."—Children's Literature