Epic Athletes: Serena Williams (Paperback)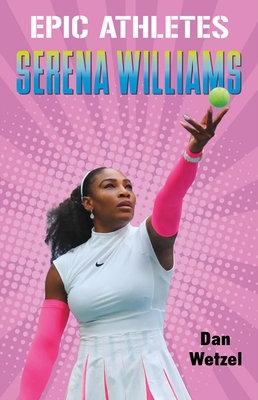 $7.99

Usually Ships in 1-5 Days
Other Books in Series
This is book number 3 in the Epic Athletes series.
Description
---
Epic Athletes: Serena Williams is an inspiring middle-grade biography of the most celebrated women's tennis player ever from acclaimed sports journalist Dan Wetzel!

Featuring comic-style illustrations by Sloane Leong!

Serena Williams is no stranger to overcoming obstacles. From growing up in a tough neighborhood to combatting racism to weathering severe health issues, there is no challenge she can't defeat, no hurdle that will get in the way of her unwavering desire to be the best tennis player in the world.

As a little girl, Serena spent years training at her local court with her father and older sister, Venus, dreaming of one day winning Grand Slam titles and earning the number one ranking in the world. After more than twenty years of dominating the world of tennis, there's no doubt that Serena has made her dreams come true. In this inspiring biography, bestselling author Dan Wetzel brings to life the story of an athlete and trailblazer who broke records and racial barriers.

Featuring action-packed comic-style interior art, this uplifting biography of the most celebrated women's tennis player of all time is sure to be a hit with young sports fans across the country.

Praise for Epic Athletes

* "An unusually informative and enjoyable sports biography for young readers." —Booklist, starred review for Epic Athletes: Stephen Curry
About the Author
---
New York Times bestselling author Dan Wetzel has been a Yahoo Sports national columnist since 2003. He's covered events and stories around the globe, including college football, the NFL, the MLB, the NHL, the NBA, the UFC, the World Cup, and the Olympics. For years, he's been called America's best sports columnist, appeared repeatedly in the prestigious Best American Sports Writing, and been honored more than a dozen times by the Associated Press Sports Editors. Dan was recently inducted into the U.S. Basketball Writers Hall of Fame. His coauthored books include Glory Road with NCAA basketball coach Don Haskins (basis for the Disney movie of the same name), and several other sports memoirs.

Sloane Leong is a self-taught cartoonist, artist and writer of Hawaiian, Chinese, Italian, Mexican, Native American and European ancestries. She explores themes of survival, displacement, relationships, spirituality, identity and mental illness through genres like science fiction, horror, adventure and slice-of-life. Her work aims to connect personally with individuals through storytelling and to cultivate a kinder, more understanding future. She has been self-publishing her own comics since she was 16 and has done various work for companies like Image Comics, First Second, Top Cow, Cartoon Network, DC, Dark Horse, Boom!, Namco and BuzzFeed. Recent projects include A Map to the Sun and Prism Stalker. She is currently living near Portland, Oregon.
Praise For…
---
"Wetzel knows how to organize the facts and tell a good story. His insights into high school, collegiate, and professional basketball, along with his use of well-chosen quotes from insiders, make this book an unusually informative and enjoyable sports biography for young readers." —Booklist, starred review for Epic Athletes: Stephen Curry