Snared: Lair of the Beast (Wily Snare #2) (Paperback)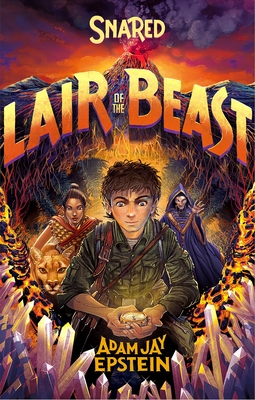 $7.99
Email or call for price.
Other Books in Series
This is book number 2 in the Wily Snare series.
Description
---
Snared: Lair of the Beast is the second book in the children's fantasy adventure series from bestselling author Adam Jay Epstein.

In this rip-roaring dungeon adventure for middle grade readers, genius inventor Wily Snare must journey into a dangerous underground maze to find a mythical beast.

Thanks to a crew of misfit treasure-seekers, Wily Snare has assumed his rightful place as King of Panthasos. Wily knows how to be a great trapsmith—devising and building various contraptions to keep plunderers at bay—but he has no idea how to be a good king.

And he hasn't escaped his past. Stalag, the mage who once kept him locked away, is amassing an army of stone soldiers to seize the kingdom. Wily's only hope is to tame a lair beast, a giant creature that's the only chance against the evil wizard's army. But first, Wily and his friends will need to survive the journey to the strange and deadly "Below" where the lair beast dwells.

An Imprint Book

"This action-packed, fast-paced read is funny, heartfelt, and filled with adventure." —School Library Journal: Xpress Reviews

Praise for Snared: Escape to the Above

"A fast-paced, refreshingly creative adventure that will thrill readers from the very first page." —Shannon Messenger, New York Times bestselling author of the Keeper of the Lost Cities series and the Sky Fall series
About the Author
---
Adam Jay Epstein spent his childhood in Great Neck, New York, when he wasn't aboard his father's sailboat. He spent many days sitting in the neighborhood park, traveling to fantasy lands in his head (occasionally when he was supposed to be doing his homework). In college, he circled the world on a ship and studied film at Wesleyan University. He is the co-author of the internationally bestselling middle grade fantasy series The Familiars, the middle-grade sci-fi series Starbounders, and the middle grade fantasy series Snared. He has written film and television projects for Disney, Sony, Fox, MGM, Paramount, MTV, HULU, SYFY, and Disney Channel. He currently lives in Los Angeles with his wife, two daughters, and dog, Pixel.
Praise For…
---
"This action-packed, fast-paced read is funny, heartfelt, and filled with adventure." —School Library Journal: Xpress Reviews

Praise for Snared: Escape to the Above

"A heartfelt tale filled with whimsy, wonder, and magic... truly satisfying." —Publishers Weekly (starred review)

"Funny, compassionate, and entertaining... Readers will be immersed into this dark yet humorous world filled with unique characters." —School Library Journal

"A fast-paced, refreshingly creative adventure that will thrill readers from the very first page." —Shannon Messenger, New York Times bestselling author of the Keeper of the Lost Cities series and the Sky Fall series

"Fabulous characters and a unique mythology combine to create something really wonderful. Snared will ensnare you." —Michael Scott, New York Times bestselling author of The Secrets of the Immortal Nicholas Flamel series.

"An imaginative blast of dungeon-crawling adventure with hilarious monsters and dastardly traps. Zany, heartfelt fun for everyone." —Lou Anders, author of the Thrones and Bones series

"Snared is chock-full of quirky characters, fantastic world building, and wild, hilarious adventure with every turn of the page. I loved it and kids will love it too!"—Liesl Shurtliff, New York Times bestselling author of Rump

"Pure dungeon-crawling fun. Witty and page-turning, I never knew what cheerful mayhem was waiting just around the bend. I can't recommend it enough." —Zack Loran Clark, coauthor of The Adventurers Guild

"A thrilling fantasy adventure full of humor and heart. Adam Jay Epstein has created a fun, magical world readers will want to stay lost in." —Jeff Garvin, author of Symptoms of Being Human

"Intruders in the dungeon! A lighthearted fantasy with a strong start." —Kirkus

"A fun and creative story with surprisingly deep plot twists." —Booklist

A Junior Library Guild Selection