The Fix-It Friends: Wish You Were Here (Paperback)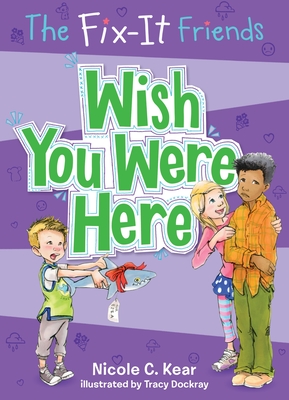 $7.99

Usually Ships in 1-5 Days
Other Books in Series
This is book number 4 in the The Fix-It Friends series.
Description
---
Because losing a loved one is hard.

Ziggy isn't just a pet guinea pig. He's a rock star, a friend, and a part of Ezra's family. So when he dies, Ezra is more upset than Veronica has ever seen him. She can't just sit back and watch a friend suffer. Something must be done! Laughter is the best medicine, so tons of fun is just what the Fix-It Friends order.

But when nothing seems to shake Ezra's sadness, the Fix-It crew learns that grief isn't something to get around, but something to get through. And with good friends by his side, Ezra will do just that.

Accessible and funny, the fourth book in The Fix-It Friends series by Nicole C. Kear handles a sensitive topic with lots of heart.

Includes a toolbox of expert advice on how to deal with loss.

Don't miss the other Fix-It Friends adventures:
The Fix-It Friends: Have No Fear!
The Fix-It Friends: Sticks and Stones
The Fix-It Friends: The Show Must Go On
The Fix-It Friends: Eyes on the Prize
The Fix-It Friends: Three's a Crowd

An Imprint Book

Praise for The Fix-It Friends: Have No Fear!:

"Fears are scary! But don't worry: the Fix-It Friends are here with step-by-step help —and humor too."—Fran Manushkin, author of the Katie Woo series

"Full of heart and more than a little spunk"
—Kathleen Lane, author of The Best Worst Thing

An empowering resource for kids — and they're just plain fun to read."
—Lauren Knickerbocker, Ph.D., Co-Director, Early Childhood Service, NYU Child Study Center

"Hooray for these young friends who work together; this diverse crew will have readers looking forward to more." —Kirkus Reviews

"The humor is spot-on, and the stories pull kids in, teaching without preaching, encouraging children to be active problem-solvers in their own lives." —Dr. Dawn Huebner, Ph. D., child psychologist and creator of the What-to-Do Guides for Kids series
About the Author
---
Nicole C. Kear grew up in New York City, where she still lives, with her husband, three firecracker kids and a ridiculously fluffy hamster. She's written lots of essays and a memoir, Now I See You, for grownups; and The Fix-It Friends series and Foreverland for kids. She also co-wrote The Startup Squad series with Brian Weisfeld. She has a bunch of fancy, boring diplomas, and one red clown nose from circus school. Seriously.

Tracy Dockray illustrated the paperback cover of Lois Lowry's Stay, a dog's tale about his life, and a picture book, Izzy & Oscar (Sourcebooks, 2015) a story about a more unusual kind of pet. Tracy has illustrated numerous other picture books such as The Tushy Book and the prize winning Lost and Found Pony, as well as an edition of Beverly Cleary's Ramona series, Ralph the Mouse series and Henry Huggins series.
Praise For…
---
Praise for The Fix-It Friends: Have No Fear!:

"Fears are scary! But don't worry: the Fix-It Friends are here with step-by-step help —and humor too."—Fran Manushkin, author of the Katie Woo series

"Full of heart and more than a little spunk" —Kathleen Lane, author of The Best Worst Thing

An empowering resource for kids — and they're just plain fun to read." —Lauren Knickerbocker, Ph.D., Co-Director, Early Childhood Service, NYU Child Study Center

"Hooray for these young friends who work together; this diverse crew will have readers looking forward to more." —Kirkus Reviews

"The humor is spot-on, and the stories pull kids in, teaching without preaching, encouraging children to be active problem-solvers in their own lives." —Dr. Dawn Huebner, Ph. D., child psychologist and creator of the What-to-Do Guides for Kids series