To the Rescue! Garrett Morgan Underground: Great Ideas Series (Great Idea Series #7) (Paperback)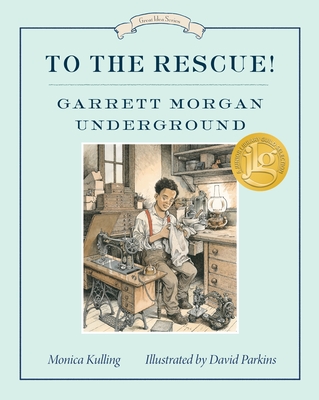 $6.99

Usually Ships in 1-5 Days
Other Books in Series
This is book number 7 in the Great Idea Series series.
Description
---
Now in paperback. The inspirational story of African-American inventor Garrett Morgan, whose incredible safety hood became the forerunner to the gas mask that saved thousands of soldiers in the trenches of World War I.


The son of freed slaves, Garrett Morgan was determined to have a better life than laboring in the Kentucky fields with his parents and ten siblings. He began by sweeping floors in a clothing factory in Cleveland, Ohio, where he decided to invent a stronger belt for sewing machines. When he was promoted to sewing-machine repairman, Garrett was on his way. In 1911, 146 workers died in the shocking Triangle Shirtwaist Factory fire in New York City, so Garrett decided to invent a safety hood for firefighters. Little did he know that most people wouldn't be interested in buying his safety hood when they discovered its inventor was black. But an explosion that trapped workers in a tunnel under Lake Erie soon changed all that. Garrett's hoods were rushed to the scene and used to rescue as many men as possible. Developed further, Garrett's invention came to save thousands of soldiers from chlorine gas in the trenches of World War I.
About the Author
---
MONICA KULLING is a poet who has published over forty books for children, including picture books, adaptations of classic novels, and biographies. Known for introducing biography to children who are just learning to read, she has written about Harriet Tubman, Henry Ford, Houdini, Eleanor Roosevelt, and Amelia Earhart, among others. Her award-winning Great Idea Series features biographies of inventors and their captivating inventions. She is also the author of the hilarious Merci Mister Dash! and Mister Dash and the Cupcake Calamity. Visit her website at www.monicakulling.ca.

DAVID PARKINS is an award-winning illustrator of more than fifty books for children. After studying wildlife illustration in Wales and general illustration at the Lincoln College of Art, he became a freelance illustrator whose work has appeared in The Guardian, the Toronto Star, Bloomberg Business Week, Nature, The Economist, and in the British children's comic The Beano. He does a regular editorial cartoon for the Globe and Mail and is the critically acclaimed illustrator of three other books in Monica Kulling's Great Idea Series: In the Bag! Margaret Knight Wraps It Up, shortlisted for the 2013 Governor General's Literary Award in Children's Illustration, Going Up! Elisha Otis's Trip to the Top and Spic-and-Span! Lillian Gilbreth's Wonder Kitchen.
Praise For…
---
PRAISE FOR In the Bag!:

"In clean, straightforward prose, Kulling explains how Knight's interest in and knack for machines was present even at a young age . . . the book focuses on Knight's invention of a paper bag-manufacturing machine and her legal fight to protect her creation after her idea was stolen." --Publishers Weekly

"Knight's achievements are illustrated in an affable caricature style that is one part David Catrow and one part David Small, highlighting Margaret's spunk and determination." --Booklist

"Kulling's lively text tells an inspiring story about this determined woman who 'never gave up without a fight.' David Parkins' charming illustrations are filled with carefully drawn period details and engaging humor. . . Don't miss this really excellent book that opens the door to a multitude of curricular uses." --Bookends, a Booklist Blog