Homerooms and Hall Passes (MP3 CD)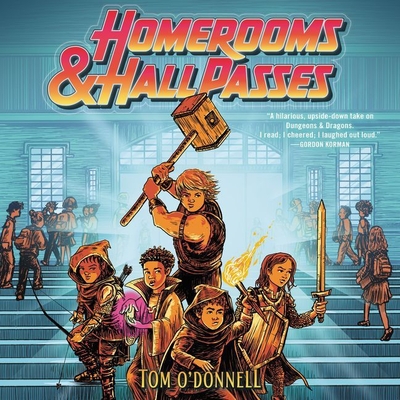 $39.99
Email or call for price.
Description
---
"You can't help falling in love with this hilarious upside-down take on Dungeons & Dragons. I read; I cheered; I laughed out loud."--Gordon Korman
In the mystical realm of Br andal r, every day the brave and the bold delve into hidden temples or forgotten dungeons, battling vile monsters and evil wizards to loot their treasure hoards for sweet, sweet magic items.
But in their free time, our heroes--Thromdurr the mighty barbarian, Devis the shifty thief, Vela the noble paladin, Sorrowshade the Gloom Elf assassin, and Albiorix the (good ) wizard--need to relax and unwind.
That's why they meet up once a week to play Homerooms & Hall Passes: a role-playing game where they assume the characters of average American eighth graders.
But when the five young adventurers are magically transported into their H&H game by an ancient curse, they must band together to survive their toughest challenge yet: middle school.
Who knew that battling ogres would be easier than passing algebra or navigating the cafeteria social scene? They must use what they've learned from playing Homerooms & Hall Passes to figure out how to save their game world (which might actually be real...).
Dungeons & Dragons meets Jumanji in this new, laugh-out-loud adventure series from the author of the beloved Hamstersaurus Rex series.