Going Gray Beauty Guide: 50 Gray8 Going Gray Stories (Paperback)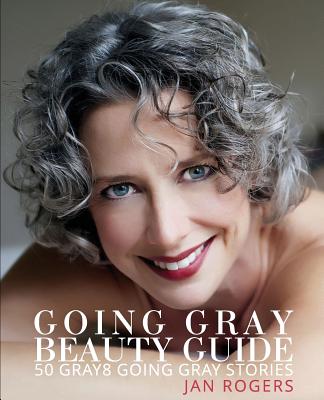 $30.99
Usually Ships in 1-5 Days
Description
---
Going Gray Beauty Guide
50 Gray8 Going Gray Stories

- THINKING ABOUT GOING GRAY?
- ALREADY HAVE GRAY HAIR?
- LOOKING FOR A FEW GRAY8 TIPS?
Well... you have come to the right place
Going Gray Beauty Guide is designed for women who:
- WANT TO GO GRAY
- ARE GOING GRAY
- OR... HAVE ALREADY GONE GRAY
Having gray hair is gray8, and is the NOW color in hair Having gray hair has nothing to do with age or looking old, and we are determined to change your old way of thinking In the past, gray hair was often associated with the image of a "little old gray haired lady." But today vibrant women everywhere are changing the way we look at gray hair. So hold on to your seats, because the "New Age of Gray" is happening now Want more going gray stories? Check-out Going Gray Beauty Guide, 40 Gray8 Going Gray Stories (coming soon).
WHAT'S THE BEST WAY 2 GO GRAY?
Alison: "I wanted to find out what color lurked beneath 27 years of black hair dye. I went cold turkey an got regular trims, as I liked the idea of the dark and light contrast. After one year, I cut off most of the dye by adding layers."
Laurel: "My complete transition took eight months. I began growing out a layered bob and kept trimming. Then, at seven months I cut it into a short-shag. This got rid of all the dye except a tiny bit on my bangs. At eight months, I snipped it off."
Deb: "I quit cold turkey. I kept it short and powered through the many colors that worked their way out. Seriously thought about a buzz cut at one point, but didn't do it. It took me about six months to transition."
Chris: "I started coloring my hair in my 20's, and continued until I was 60. No matter what color I used, it would turn a brassy orange within two weeks from the Florida sun. I decided two years ago to stop coloring. I chopped off all my hair (as short as I could), without having to do a buzz cut, and just went from there. I just did it and held my head up high "
Lisa: "My mom found my first gray hair at nine, and by seventeen I had a gray streak right smack in front. I began dyeing my hair, and at 47 decided I was done I went cold turkey. I cut my long dark hair to a short bob, and got a perm. For me, it helped with the demarcation line. After I got about two inches of growth I got my first of three pixie cuts to remove the dye. The process took about nine months."
AUTHOR: Jan Rogers/Age 62/Indie Author/ ESTA Advanced Licensed Managing Esthetician in two states/Baby Boomer/PEACE
GET READY - GET SET - GO GRAYLICIOUS
FIVE THINGS ABOUT ME
1. I am the second of the five Westfall sisters, and grew up in a musical family.
2. I have been married forty years, have two daughters, three grandchildren, and, two Shih-Tzu's.
3. I started working behind the Estee Lauder counter in 1978, climbed the corporate ladder, bought cosmetics and shoes, and managed 100's of amazing Beauty Advisors/Consultants throughout the years.
4. My husband and I renovated a dilapidated 1890 Victorian home, and turned it into an award-winning Bed & Breakfast. I also wrote a cookbook for our B&B.
5. I went to Esthetics school at the age of 57, and became a Licensed Managing Esthetician. I'm sure they will always remember the "lady with the gray hair."