Tempo: timing, tactics and strategy in narrative-driven decision-making (Paperback)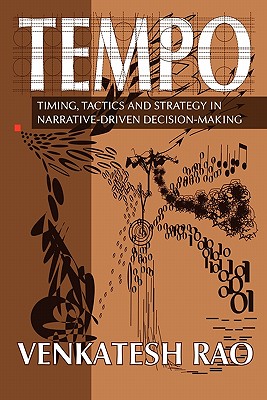 Email or call for price.
Usually Ships in 1-5 Days
Description
---
Tempo is a modern treatment of decision-making that weaves together concepts and principles from the mathematical decision sciences, cognitive psychology, philosophy and theories of narrative and metaphor. Drawing on examples from familiar domains such as the kitchen and the office, the author, Venkatesh Rao, illustrates the subtleties underlying everyday behavior, and explains how you can strengthen the foundations of your decision-making skills. "TEMPO is one of the most insightful and original books on decision-making I've ever read..." -- Daniel H. Pink, author of DRIVE and A WHOLE NEW MIND "An uncannily accurate analysis of our choice-making behaviors" -- David Allen, author of GETTING THINGS DONE "Tempo is a highly original and engaging book...In a world where timing is increasingly central to success, this is an essential read, not just for executives, but for everyone." -- John Hagel, co-author of THE POWER OF PULL.