Eliza Bing is (Not) a Star (Paperback)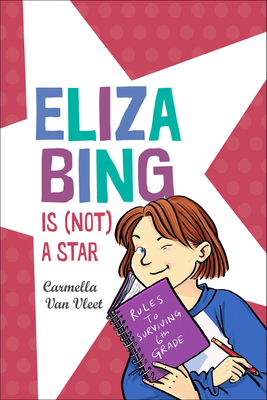 $7.99
Email or call for price.
Description
---
How will Eliza make it through the sixth grade? Her ADHD tends to complicate things. . . .

Eliza Bing stuck with taekwondo and earned her yellow belt even though her family expected her to quit. She's tough enough to break boards with her bare hands! Next up: middle school, and hopefully a best friend. The school play turns out to be the perfect opportunity to befriend confident, stage-obsessed Annie. But can their friendship survive the spotlight?

The joys and sorrows of middle school come to life in this funny and heartfelt sequel to Eliza Bing Is (NOT) a Big, Fat Quitter, recipient of the Christopher Award and four child-voted state award nominations.
About the Author
---
Carmella Van Vleet is a former elementary school teacher and the author of numerous books for children, including To the Stars!, which was co-authored by astronaut Kathy Sullivan and named to the 2017 Amelia Bloomer list. Her debut children's novel, Eliza Bing Is (NOT) a Big, Fat Quitter, received a Christopher Award and was named to four state award master lists. Just like Eliza, Carmella loves tae kwon do--she has earned her black belt! She lives in central Ohio with her family, including the daughter who inspired Eliza.
Praise For…
---
"As a first-person narrator, Eliza is endearing and authentic; one looks forward to her ongoing adventures in growing up . . . Eliza Bing is a star on the rise."—Kirkus Reviews

"Readers will root for Eliza as she navigates middle school, while facing recognizable family, friend, and school stressors. Most kids will recognize themselves in Eliza's insecurities and will applaud as she strives to control circumstances that aren't always within her power to control."—School Library Journal