Bloodwitch: The Witchlands (Paperback)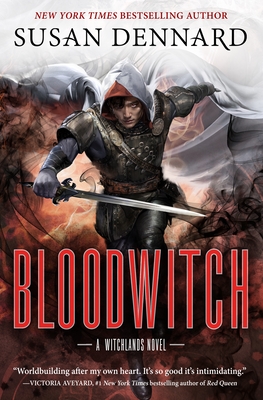 $10.99

Usually Ships in 1-5 Days
Other Books in Series
This is book number 3 in the The Witchlands series.
Description
---
Susan Dennard's New York Times bestselling, young adult epic fantasy Witchlands series continues with the story of the Bloodwitch Aeduan.


Aeduan has teamed up with the Threadwitch Iseult and the magical girl Owl to stop a bloodthirsty horde of raiders preparing to destroy a monastery that holds more than just faith. But to do so, he must confront his own father, and his past.


"Worldbuilding after my own heart. It's so good it's intimidating."—Victoria Aveyard, #1 New York Times bestselling author of Red Queen

The Witchlands
#1 Truthwitch
#2 Windwitch
#3 Bloodwitch
Sightwitch (illustrated novella)
About the Author
---
Susan Dennard is the award-winning, New York Times bestselling author of the Witchlands series (now in development for TV from the Jim Henson Company), the Something Strange and Deadly series, and the upcoming Luminaries series, as well as various short stories and other tales across the internet. She also runs the popular newsletter for writers, the Misfits and Daydreamers. When not writing or teaching writing, she can be found rolling the dice as a Dungeon Master or mashing buttons on one of her way too many consoles.

Originally from Georgia, she earned advanced degrees in marine ecology and statistics while also traveling the world. She now lives near Lake Michigan with her French husband, très mignonne daughter, and a veritable zoo of aging pets.
Praise For…
---
"The Witchlands series is back with higher stakes, new tricks and a deeper dive into this already epic world. Readers are in for a treat as more of the world is explored and Dennard continues to dazzle with nonstop action, beautifully crafted characterization and stunning prose. Fantasy at its best as the last page leaves your adrenaline pumping, heart broken and a yearning for more!"—Katie Stutz, Anderson's Bookshop

"It's hard to find a book in which I can't wait to read every character perspective, but with these characters -- each connected by threads of friendship, love, and loyalty -- I couldn't wait to see what would happen next! Placed in Dennard's stunning world and amidst her compelling plot, they had my heart racing and oozing emotions! Bloodwitch is the best Witchlands book yet!"—Meghan Vanderlee, Schuler's Books

"Brace yourselves for this heart pounding, gut wrenching, spellbinding third installment to the Witchlands. You may even need to stop and catch your breath."—Melissa Lee, Blue Bunny Books, Boston

Praise for the Witchlands Series:

"Worldbuilding after my own heart. It's so good it's intimidating."—Victoria Aveyard, #1 New York Timesbestselling author of Red Queen

"A world you'll want to inhabit forever!"—Alexandra Bracken on Windwitch

"A richly imagined magical world, ruthless politics, steamy romance, and characters who grab you and won't let go."—Cinda Williams Chima, New York Times bestselling author, on Truthwitch

"Featuring vibrant characters and an innovative system of magic...a fast-paced adventure and a wonderful tribute to the power of the binding ties of friendship."—Jacqueline Carey, New York Times bestselling author, on Truthwitch

"A cake stuffed full of your favorite fantasy treats: highway robbery, swordplay, deep friendships, treachery, magic, piracy on the high seas, and romance. This book will delight you."—Robin Hobb, New York Times bestselling author, on Truthwitch

"[Dennard] sets scenes so skillfully that the descriptions of the geography become immersive, and the characters continually develop along familiar lines. The plentiful action in this exciting fantasy almost makes it feel like one is in a multiplayer online game."—Booklist on Windwitch

"Dennard's rich descriptions, insightful characterizations, and breathtaking action sequences will keep readers on their toes."—Publishers Weekly, starred review on Truthwitch

"Intense friendships and burgeoning romances…Epic adventure and steamy smooches make for a crowd-pleasing formula."—Kirkus Reviews

"Dennard has upped her game."—Deseret News on Windwitch

"5 stars: Emotionally charged... with complicated politics and personal relationships that are full of surprises."—RT Book Reviews, on Windwitch

"Susan Dennard is taking the reins of the genre that is fantasy, making it apparent that she is here to stay and I cannot wait for more of her amazing writing in the future of this series."—TeenReads on Windwitch