Personal Effects (Paperback)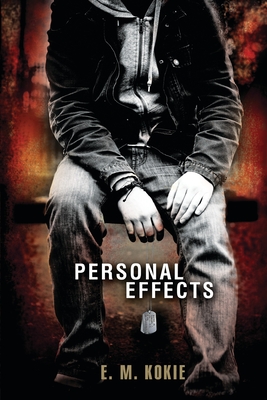 $7.99
Email or call for price.
Fall '12 Kids List
---
"Personal Effects portrays a teenager dealing with the loss of his brother who was killed in Iraq. Matt and his father are each dealing with the loss in different ways, making it hard for Matt to come to terms with T. J.'s death. Increasingly, Matt becomes obsessed with questions about his brother's past. In learning more about T. J., Matt grows and matures. This is a powerful book, full of many timely issues."
— Sue Richardson, Maine Coast Book Shop, Inc., Damariscotta, ME
Description
---
"Through raw moments and strikingly mature characterizations, Kokie explores loss, personal relationships, and the burden of preconceptions." — Publishers Weekly (starred review) 

T.J. is gone, but Matt can't shake the feeling that if only he could get his hands on his brother's stuff from Iraq, he'd be able to make sense of his death. As Matt searches for answers, he faces a shocking revelation about T.J.'s life. What he learns challenges him to stand up to his father, honor his brother's memory, and take charge of his own life. With compassion, humor, and a compelling narrative voice, E. M. Kokie explores grief, social mores, and self-discovery in a provocative first novel.
About the Author
---
Praise For…
---
PERSONAL EFFECTS is one of the best novels I've read in a long time—it's complex, moving, and beautifully written. I want everyone I love to read this book.
—Jacqueline Woodson, National Book Award Finalist, Coretta Scott King Award winner, and Newbery Honor winner

With a pen dipped in adrenaline, E.M. Kokie tells a harrowing story of profound grief and powerful honesty. Read it immediately.
—Ellen Wittlinger, author of the Michael L. Printz Honor winner Hard Love

PERSONAL EFFECTS is a courageous book about the anger and pain of loss. But most of all, it is about different kinds of love.
—Francisco X. Stork, author of Marcelo in the Real World and The Last Summer of the Death Warriors

Timely, passionate, and political, PERSONAL EFFECTS is a story that needs to be told. Heartbreaking and heart-opening at the same time.
—James Howe, author of The Misfits and Totally Joe

The devastating power of secrets and grief are perfectly captured in Matt's journey to finding the truth about his brother—and ultimately, himself.
—Jo Knowles, author of Jumping Off Swings and See You at Harry's

PERSONAL EFFECTS is a smart, rugged, hugely insightful book that elevates an already soaring genre. E.M. Kokie glides along that fine line between comedy and tragedy to tell a sensational story.
—Chris Crutcher, a Margaret A. Edwards Award-winning author

Writing with grace and subtlety, Kokie depicts Matt's emotions as he uncovers the details of T.J's hidden life. Through raw moments and strikingly mature characterizations, Kokie explores loss, personal relationships, and the burden of preconceptions.
—Publishers Weekly (starred review)

Matt tells his tale in an almost excruciatingly deliberate present-tense narration; Kokie grounds readers so thoroughly in Matt's misery that they will be as itchy to escape the brutal emptiness of life with his father as he is. . . .A fine addition to the literature of the wars in Iraq and Afghanistan.
—Kirkus Reviews

Kokie beautifully crafts a story about the troubled relationships between an emotionally stunted father and his two sons. Both T.J. and Matt are forced to deal with their own pain in secret. A strong choice for reluctant readers and lovers of realistic fiction alike.
—School Library Journal

Kokie's well-crafted debut novel depicts a military family with admirable complexity while tracing one young man's hard-fought coming of age.
—The Horn Book

Matt's first-person, present-tense narrative, with its fast, contemporary dialogue, will grab readers right from the opening scene.
—Booklist

The book demonstrates that everybody deals with grief differently; Matt's journey and healing process make this book exceptional. The ending is more than satisfying. (Highly Recommended)
—Library Media Connection

Well written and heartfelt, the novel provides much to discuss after the covers are closed. It tackles some tough subjects. Adroitly avoiding a didactic politicizing of the Iraq War, it concentrates instead on depicting the emotions that conflicting viewpoints engender to someone mourning a loved one who died in the war. On a deeper level, it also tackles the cost of hiding parts of your life to avoid hurting your loved ones. The dialogue is authentic to the characters and the plot moves the story forward at a pace that allows reflection, but keeps the reader interested. This title is highly recommended for teen readers.
—VOYA

This is a brave kid. This is a feeling kid. This is a kid with heart. The story is written with incredible sensitivity. A real beaut of a journey....haven't seen one like this in a long time.
—Barb Langridge, Children's Services at Howard County Central Library