Oh, Ick!: 114 Science Experiments Guaranteed to Gross You Out! (Paperback)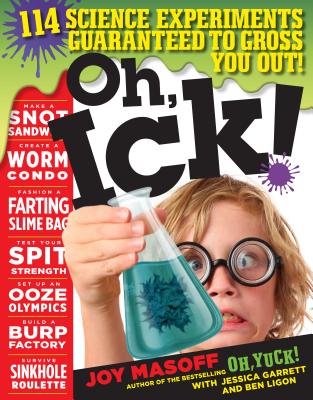 Description
---
From the bestselling author of Oh, Yuck! and Oh, Yikes!, with over 1.25 million copies in print, here is an A-Z compendium of hands-on grossness.

Featuring 114 interactive experiments and ick-tivities, Oh, Ick! delves into the science behind everything disgusting.

Stage an Ooze Olympics to demonstrate viscosity and the nature of slime. Observe how fungi grow by making a Mold Zoo. Embark on an Insect Safari to get to know the creepy crawlies around your home. And learn what causes that embarrassing acne on your face by baking a Pimple Cake to pop—and eat. Eww!

 
About the Author
---
Joy Masoff has spent her career teaching children to view the world with wonder—and a great deal of irreverence. In addition to Oh, Yuck! and Oh, Yikes!, she has written dozens of books for Scholastic, National Geographic Kids, and Five Ponds Press.

Jessica Garrett has taught 5th and 6th grade math and science, ran after-school Science Clubs for Girls, and spent 7 years at MIT creating cutting-edge K-12 STEM curriculum, teacher professional-development workshops, and student programs. She is now a voice over artist, education consultant, and textbook author. She lives with her husband, Ben Ligon, and their son in Massachusetts.

Ben Ligon is a middle school science teacher and author of science textbooks. He has also taught math, has a background in environmental economics, and worked for 5 years on air pollution policies. He lives with his wife, Jessica Garrett, and their son in Massachusetts.


 
Praise For…
---
"Chapters cover everything from arachnids to zits... all explored thoroughly through experiments, photos, cartoon illustrations, and an entertaining narrative... The gross-out quotient has a natural draw, but there's substantial scientific knowledge to be absorbed throughout." — Publishers Weekly

"A lighthearted compendium of interesting formation and engaging, hands-on activities with gobs of kid appeal." — Kirkus Reviews

"Expect to get messy, have a lot of fun, and do science!" — Geek Dad

"Chapters cover everything from arachnids to zits... all explored thoroughly through experiments, photos, cartoon illustrations, and an entertaining narrative... The gross-out quotient has a natural draw, but there's substantial scientific knowledge to be absorbed throughout." — Publishers Weekly

"A lighthearted compendium of interesting formation and engaging, hands-on activities with gobs of kid appeal." — Kirkus Reviews

"Expect to get messy, have a lot of fun, and do science!" — Geek Dad