Classic Oliver Tractors: History, Models, Variations & Specifications 1855-1976 (Hardcover)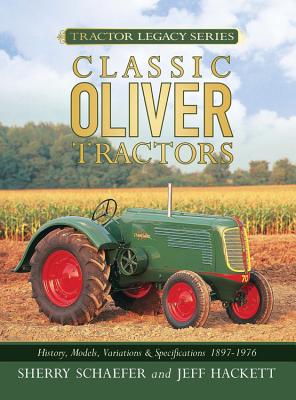 $25.00
Email or call for price.
Description
---
James Oliver sold his first chilled plow in 1870-- chilled because the cast iron was cooled quickly with water to harden the metal and strengthen the plow. And when Oliver Chilled Plow Works merged with the Hart-Parr Company in 1929, the might of capital, expertise, and engineering resources came together to create one of the most successful and revered small tractor manufacturers of all time. This book follows the Oliver tractor from its inception through its development over the years, until the last model rolled off the assembly line in 1976. A story of entrepreneurship and industry, of machinery and American know-how, this illustrated history captures the spirit of Oliver farm equipment as its tractors and crawlers, hay balers and threshers turned American farmland to gold. Throughout, brilliant color photographs and historical images bring the story of the Oliver tractor vividly and vibrantly to life.
About the Author
---
Sherry Schaefer is an Oliver enthusiast who writes for an Oliver information newsletter. She lives in Nokomis, Illinois.Jeff Hackett has been photographing motorcycles for magazines, books, and calendars for 19 years. He lives outside New Haven, Connecticut.