The Serpent's Fury: Royal Guide to Monster Slaying, Book 3 (A Royal Guide to Monster Slaying #3) (Paperback)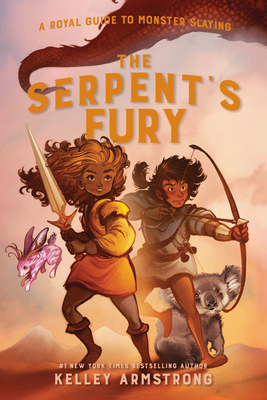 Other Books in Series
This is book number 3 in the A Royal Guide to Monster Slaying series.
Description
---
Rowan faces her most dangerous monster-slaying challenge yet, confronting what could be the most infamous monster of all, in the third book in this fantastical series by New York Times bestselling author, Kelley Armstrong.

Rowan is Tamarel's Royal Monster Hunter, and her twin brother, Rhydd, will be its king. After the events of The Gryphon's Lair, Rowan, along with her friends, her brother and an entourage of monstrous companions, makes her way back to the Dunnian Woods to deal with the pack of dropbears the group trapped in an abandoned cabin after a vicious attack. The dropbears are just one of a number of rare monster species acting erratically in Tamarel.
After a swarm of colocolos nearly tramples the group, Rowan becomes convinced that someone (or something) is driving these monsters out of their natural habitats. But nothing can prepare the Royal Monster Hunter for the truth of the matter: monsters even bigger and deadlier than gryphons have returned to the world, and their nest-building, as well as the actions of the humans trying to drive them out, has upset the balance of nature in Tamarel.
Do Rowan's "monster magnet" skills work against the most fearsome monsters imaginable? Find out in this exciting third book in the Royal Guide to Monster Slaying series!
About the Author
---
KELLEY ARMSTRONG is the #1 New York Times bestselling author of three trilogies for teens: the Darkest Powers; Darkness Rising and Age of Legends, as well as several thriller and fantasy series for adults and three YA thrillers (The Masked Truth, Missing and Aftermath). She is also the co-author (with Melissa Marr) of the Blackwell Pages series, a middle-grade fantasy series based on Norse gods. The Masked Truth received a starred review from PW ("overflowing with twists"), while Missing received a starred review from VOYA ("a compelling thriller that keeps the reader hooked until the end").

XAVIÈRE DAUMARIE is a French artist who has created designs and illustrations for several book series by Kelley Armstrong: Women of the Otherworld, including two graphic novels, Becoming and Bounty Hunt; Age of Legends; Cainsville; and The Blackwell Pages series by K.L. Armstrong and M.A. Marr. She lives in France.
Praise For…
---
One of CCBC's Best Books for Kids and Teens, Fall 2021 — Starred Pick

"Armstrong immerses readers in her ever deepening external and internal worlds. . . . The fourth book cannot come fast enough." —Kirkus Reviews

"This conclusion to the trilogy does the action-packed series justice." —School Library Journal

"The central, ongoing theme of wildlife management and protection is relevant, and it continues to be framed within a fun story. Those who enjoyed the first two novels will enjoy this one as well." —CM: Canadian Review of Materials

"There's plenty of action and suspense for lovers of fantasy as Rowan finds that not all the danger in the woods comes from the monsters." —Winnipeg Free Press