The Last Guest: A Novel (Hardcover)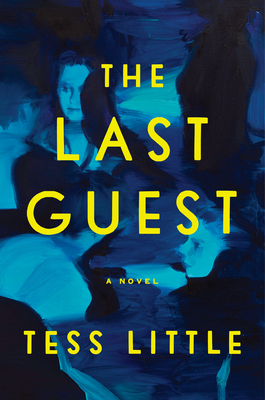 $27.00

Usually Ships in 1-5 Days
Description
---
A glamorous birthday dinner in the Hollywood Hills ends with the famous host dead and every guest under suspicion in The Last Guest, a dark, cinematic suspense debut reminiscent of an Agatha Christie page-turner crossed with David Lynch's Mulholland Drive.

"The Last Guest is a sharp, unshrinking look at the costs of submission—to power and control, to ambition and desire, even to the wish to protect those we love by forcing memory underground."—Paula McLain, author of The Paris Wife and When the Stars Go Dark

When Elspeth Bell attends the fiftieth birthday party of her ex-husband, Richard Bryant, the Hollywood director who launched her acting career, all she wants is to pass unnoticed through the glamorous crowd in his sprawling Los Angeles mansion. Instead, there are only seven other guests—and Richard's pet octopus, Persephone, watching over them from her tank as the intimate party grows more surreal (and rowdy) by the hour. Come morning, Richard is dead—and all of the guests are suspects.

In the weeks that follow, each guest comes under suspicion: the school friend, the studio producer, the actress, the actor, the new partner, the manager, the cinematographer, and even Elspeth herself. What starts out as a locked-room mystery soon reveals itself to be much more complicated, as dark stories from Richard's past surface, colliding with memories of their marriage that Elspeth vowed never to revisit. She begins to wonder not just who killed Richard, but why these eight guests were invited—and what sort of man would desire to possess a creature as mysterious and unsettling as Persephone.

The Last Guest is a stylish exploration of power—the power of memory, the power of perception, the power of one person over another.
About the Author
---
Tess Little is a writer and historian. She was born in Norwich, Norfolk, and studied history at Oxford and Cambridge. At the age of twenty-two, she was elected as a fellow of All Souls College, University of Oxford, where she completed a doctorate on 1970s feminist activism in the UK, France, and the United States. Her short stories and nonfiction have appeared in Words and Women: Two, The Mays Anthology, The Belleville Park Pages, and The White Review, and on posters outside a London tube station. This is her first novel.
Praise For…
---
"With a knowing, satirical eye, Tess Little skillfully weaves a page-turner full of satisfying twists and turns. What starts as a murder mystery soon turns into a carnival of L.A. parties, blending and bleeding into each other as time doubles over on itself. Ultimately, The Last Guest is a moving story of power, cruelty, and one woman's quest to reclaim her daughter, her past, and ultimately herself."—Kyle McCarthy, author of Everyone Knows How Much I Love You

"Tess Little is a modern Agatha Christie, setting up her eight suspects, locking them in a sprawling Los Angeles mansion, and knocking them down one by one over the course of a decadent, stomach-turning dinner party. In trying to understand who murdered Richard, Elspeth begins a kind of katabasis—and what she finds down there in the dark with Persephone might destroy her. The Last Guest kept me guessing until the very last."—Tanen Jones, author of The Better Liar

"A mystery that lures you into its dark depths and won't let you go, and a mesmerizing meditation on the silences we keep and why we keep them."—Tiffany Tsao, author of The Majesties

"Dark, compelling Hollywood intrigue and a diverse cast of well-drawn characters make The Last Guest a unique locked-room mystery that readers will simply devour! It's perfect for fans of Lucy Foley."—Wendy Walker, author of Don't Look for Me

"With skewering intensity and taut, unsettling prose, Tess Little plunges us into the kaleidoscopic glamour of Hollywood, where the eccentric birthday party of a brilliant, sadistic director forces the eruption of long-buried pain. The Last Guest is a sharp, unshrinking look at the costs of submission—to power and control, to ambition and desire, even to the wish to protect those we love by forcing memory underground. It's timely, smart, and satisfying."—Paula McLain, author of The Paris Wife and When the Stars Go Dark

"Little intercuts the party's aftermath with flashbacks to Elspeth's past and the soiree itself, imparting tension, heft, and drive. . . . Elspeth's emotional journey both grips and gratifies. Little is a writer to watch."—Publishers Weekly