Imogene Comes Back! (Hardcover)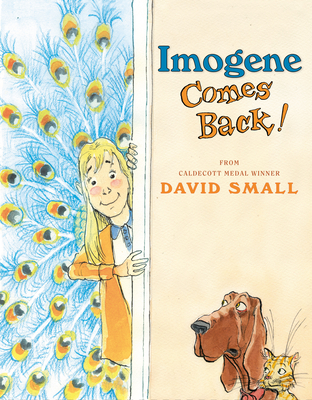 $17.99
Email or call for price.
Description
---
35 years after Imogene woke up with antlers, she's back! The follow up to the classic, Imogene's Antlers by Caldecott Award winning David Small.

One day, Imogene woke up to discover that she had sprouted antlers overnight. Her family was confused, her mother was distraught and there was no explanation. Then she woke up the next day and they were gone, but were replaced by something just as curious.

Now Imogene has found she has a new curious feature every day. Some are helpful, some are sweet, some are downright strange. But all of them upset her poor mother who just can't handle how improper it all is. Yet even as Imogene discovers something new every day, she always remains Imogene at heart.

David Small returns to one of his most beloved characters in this charming tale.
About the Author
---
David Small is a writer and illustrator who grew up in Detroit, Michigan, studied art and English at Wayne State University, and completed his graduate studies in art at Yale University. In addition to children's books, David makes editorial drawings for such publications as the New York Times and The Wall Street Journal and is a frequent contributor to many national magazines as well. David also writes book reviews for the New York Times Book Review. Recognition for David's books include The Caldecott Medal (So You Want To Be President?, 2001), The Caldecott Honor (The Gardener, 1998; One Cool Friend 2012), National Book Award Finalist (Stitches, 2009 and The Underneath, 2008), Christopher Award (That Book Woman, 2009 and The Gardener, 1998), ABBY Award Honor Book (The Gardener, 1997 and The Library, 1995), The New York Times Outstanding Book of the Year (The Library, 1995), and a Featured Selection for more than 10 years on Reading Rainbow (Imogene's Antlers, 1985).
Praise For…
---
"This sweet and funny story has an important message about acceptance." –School Library Journal, Starred Review

"This joyful ode to imagination offers readers plenty of encouragement to buck conformity and celebrate what makes them extraordinary" –Shelf Awareness

"Watercolor drawings are as sly as ever, rendered in creamy tones befitting Imogene's posh lifestyle and punctuated by sublime goofiness—and reminding readers that being able to roll with change is a useful part of transformation." –Publisher's Weekly