Crypt Quest/Space Battles: A Play-Your-Way Adventure (Midnight Arcade #1) (Paperback)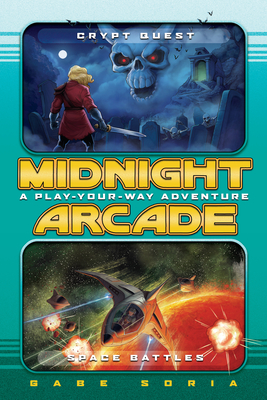 $8.99
Email or call for price.
Other Books in Series
This is book number 1 in the Midnight Arcade series.
Description
---
Trapped in a 80's era haunted video arcade, Midnight Arcade is a play-your-way adventure tale in which the reader determines the course of action, ultimately controlling whether they live . . . or die!

After climbing a fence near an abandoned mall, you discover a derelict video arcade managed by a ghostly attendant. Presented with a magical game token, you select one of two games you wish to play, the eerie Crypt Quest or the flashy Space Battles. Once you place the token in the slot, you have to make choices to advance through the games and your decisions control whether you beat the game, or die.

Both games feature unique villains and life-like game play that will delight readers, and the most important choice in either game for those now trapped inside them, is the one that will keep them alive.
About the Author
---
Known for popular online role-playing game, Sword & Backpack, Gabe Soria has written books for Penguin Young Readers including Regular Show's Fakespeare in the Park and Shovel Knight's Digger's Diary. He has written several comic books for DC Comics including Batman '66. Gabe also collaborated with friend Dan Auerbach of the Black Keys on the The Murder Ballads comic book. This is his first work of original fiction.

Kenall Hale is a cartoonist from Wisconsin whose work has varied from animated character designs to commercial advertising. He has produced work for Nick Jr., Bento Box, Skippy Peanut Butter, and Sandman Studios. He has also taught classes for Brigham Young University. He currently lives in Los Angeles with his pet rock, Rock.
Praise For…
---
"Awesome 80s vibe." - Max Brallier, Last Kids on Earth

"I still haven't beaten the game, but that means I get to read it again!" - Drew Brockington, CatStronauts

"[Midnight Arcade] doubles down on the nostalgia vibe to awesome effect." - Brandon Montclare, Moon Girl and Devil Dinosaur

"Once I figured out how to maneuver my spaceship, I effortlessly defeated the Black Angel on my first attempt because I'm a genius [sic]... and then I immediately crash landed on a jungle planet and died like 5 times, haha" - Patrick McHale, Adventure Time & Over the Garden Wall

"Midnight Arcade combines some of my favorite things like skeletons, haunted castles, weird aliens and making terrible decisions into one radical book." - Dave Scheidt, Wrapped Up & Trolls Graphic Novels

"Worth its weight in quarters" - Ben Bertoli, 101 Video Games to Play Before You Grow Up

"Midnight Arcade uses nostalgia in the best way possible (for good, not evil) which makes it straight up super-fun. PUT YOUR TOKEN IN THE SLOT AND START PLAYING!" - Brandon T. Snider, The Elements of Harmony: Friendship Is Magic

"Absurdly entertaining. Transported me back to a when games were fueled by quarters and raw imagination." - Landry Q. Walker, Project Terra

"...magically immersive..." - Kirkus Reviews

"Like the perennially popular Choose-Your-Own-Adventure theory, this first Play-Your-Way book gives readers plot options, allowing them to weave their way back and forth among half a dozen choices. The conceit though is that the adventures all relate to old-fashioned (i.e., 1980s-type) video games that abound in the haunted arcade of an abandoned shopping mall. The protagonist is "you," bravely making your lone way into the mall, only to be confronted by a creepy arcade host who offers a challenge: play one of two games that lead to a new world of choices. Will it be Space Battles or Crypt Quest? Will the reader choose a maneuver that pays off, or one that leaves you DEAD?! (No worries—you can always start back over at the point where you made your fatal choice.) Nostalgic digital-style fonts and portrayals of old-style controls give the book flair. Not for the linear-minded, but those readers who enjoy video games will be on board for the dizzying turns and restarts, making the series a likely hit."
      - Booklist, Karen Cruze

"This Play-Your-Way novel contains fast-paced action with a video game feel featuring a game console that drives the alternate options to the stories. The book contains two different arcade game storylines that will interest gamers. A group of friends go to a derelict, haunted mall at the outset of the book. The friends chicken out on going in, but one young adventurer enters the dark, eerily quiet halls and suddenly hears arcade music and lights in the distance. When he investigates, he finds the arcade with lights on in old-style games. As he investigates this magical place, he encounters a mysterious arcade worker who gives him a game token. The reader then picks which storyline to follow to begin the experience. This book will appeal to readers who like to play video games and who enjoy choose-your-own-adventure style books. The stories have many different decisions possible with game console controls guiding the paths of the stories."
     - School and Library Connection, Richard Fanning, Library Media Specialist, Spring Forest Middle School, Houston, Texas