Once Upon a PICKLE: World's Greatest Word Game (Tales from Mad Libs) (Paperback)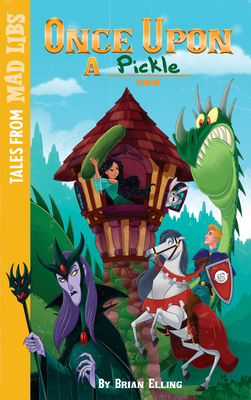 $5.99

Usually Ships in 1-5 Days
Description
---
Once upon a time, there lived a beautiful NOUN . . . and they all lived ADVERB ever after in this magical fairy tale. With twenty-one fill-in-the-blank chapters, this one ADJECTIVE fairy tale has endless possibilities! Write your own adventure with Tales from Mad Libs in stories that change with every reader, every time.

A/an ADJECTIVE princess is locked in a tower, dreaming of a way to finally get her NOUN. In a story filled with fire-VERB ENDING IN "ING" dragons, a wicked step-NOUN, and a prince with a PART OF THE BODY of gold, this Mad Libs is sure to be exactly what you wished for.

Featuring hundreds of fill-in-the-blanks, this is one fairy tale that is much more than once upon a time.
About the Author
---
Brian Clark is a writer, producer, and editor based in Los Angeles. Brian has written for numerous children's television shows--his recent work on the Netflix Series, The Who Was Show (based on the book series from Penguin Random House), earned him two Emmy nominations. Above all else, Brian thinks it's a good thing to adopt big dogs who need a home.