Dirt (Paperback)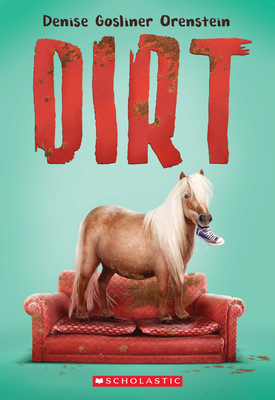 $6.99
Email or call for price.
Description
---
A Horse in the house?Things are hard for eleven-year-old Yonder. Her mother died and her father has sunk into sadness. She doesn't have a friend to her name... except for Dirt, the Shetland pony next door.Dirt has problems of his own. He's overweight, he's always in trouble, and his owner is the mean Miss Enid, who doesn't have the patience for a pony's natural curiosity. His only friend is Yonder, the scrawny girl next door.So when Miss Enid decides to sell Dirt for horsemeat, Yonder knows she has to find a way to rescue him. Even if that means stealing Dirt away and sneaking him into her own house. What follows will make you worry, will make you cry, and will ultimately fill you with hope, love, and an unshakable belief in the power of friendship. Especially the four-legged kind.
About the Author
---
Denise Gosliner Orenstein has taught at American University in Washington, DC, as well as in bush villages throughout the state of Alaska. She has also cooked for an Alaskan village prison, worked as a PEN prison writing mentor, and taught literature classes and assisted in a canine therapy program for inmates. Most recently, as head of a school for children with learning differences, she introduced a curriculum based on two rescued Shetland ponies. Denise is the mother of two daughters and lives in Northampton, Massachusetts.
Praise For…
---
Praise for Dirt:"Yonder is an engaging protagonist whose intimate, frequently poetic first-person narrative captures herunspoken sorrows and dilemmas. Dirt's unique in his own right—feisty, loyal, and affectionate—and their relationship's shared rewards, companionship to comfort, are evident throughout... Yonder and her issues are sympathetically drawn in an often eloquent, affecting portrayal of loss, friendship, and healing." -- Booklist"Yonder doesn't speak but she has plenty to say; when a grumpy one-eyed pony listens to her, it gives her the courage to fight for them both. Realistic, difficult, and inspiring." -- Kimberly Brubaker Bradley, Newbery Honor-winning author of The War that Saved My Life"This book has a heart as big and brave as a Shetland pony." -- Wendelin Van Draanen, Edgar-winning author of the Sammy Keyes mysteries"Dirt is a beautifully written tale with heartfelt characters and a riveting story. Inspiring!" -- Phoebe Stone, author of Paris for Two"This is an emotionally absorbing story with rich themes about redemption and friendship." -- School Library Journal

Praise for Dirt:"Yonder is an engaging protagonist whose intimate, frequently poetic first-person narrative captures herunspoken sorrows and dilemmas. Dirt's unique in his own right—feisty, loyal, and affectionate—and their relationship's shared rewards, companionship to comfort, are evident throughout... Yonder and her issues are sympathetically drawn in an often eloquent, affecting portrayal of loss, friendship, and healing." -- Booklist"Yonder doesn't speak but she has plenty to say; when a grumpy one-eyed pony listens to her, it gives her the courage to fight for them both. Realistic, difficult, and inspiring." -- Kimberly Brubaker Bradley, Newbery Honor-winning author of The War that Saved My Life"This book has a heart as big and brave as a Shetland pony." -- Wendelin Van Draanen, Edgar-winning author of the Sammy Keyes mysteries"Dirt is a beautifully written tale with heartfelt characters and a riveting story. Inspiring!" -- Phoebe Stone, author of Paris for Two"This is an emotionally absorbing story with rich themes about redemption and friendship." -- School Library Journal