Unleashed (Swindle #7) (Paperback)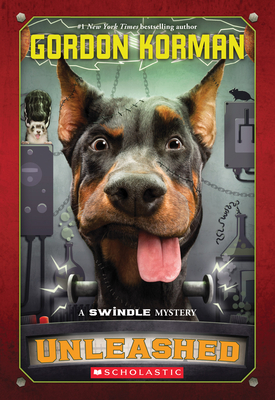 $7.99
Usually Ships in 1-5 Days
Other Books in Series
This is book number 7 in the Swindle series.
Description
---
UNLEASHED: freed from restraint, running wild, not being held back by anyone or anything . . . Don't miss the latest Swindle mystery from #1 New York Times bestselling author Gordon Korman.Luthor, a former attack dog, is supposed to be on his best behavior now that he's in the care of Savannah, a girl who's easily a dog's best friend. But every time a certain truck passes by Savannah's house, Luthor goes into attack mode -- and chaos follows.Meanwhile, Griffin Bing is locked in the fight of his life with his archenemy, Darren Vader. Both are trying to win an invention contest -- and will stop at nothing to be victorious.A runaway dog. Some majorly strange inventions. A mysterious neighbor. A stolen object of great value. These are a few of the ingredients in Unleashed, Gordon Korman's latest Swindle mystery. Like a Doberman with a mission in mind, there's no holding this story back!
About the Author
---
Gordon Korman is the #1 bestselling author of three books in The 39 Clues series as well as eight books in his Swindle series: Swindle, Zoobreak, Framed, Showoff, Hideout, Jackpot, Unleashed, and Jingle. His other books include This Can't Be Happening at Macdonald Hall! (published when he was 14); The Toilet Paper Tigers; Radio Fifth Grade; Slacker; Restart; Whatshisface; Level 13; the trilogies Island, Everest, Dive, Kidnapped, and Titanic; and the series The Hypnotists and On the Run. Gordon grew up in Thornhill, Ontario and he lives in New York with his family. Visit him online at www.gordonkorman.com.
Praise For…
---
Praise for Swindle:"Pure fun from top to bottom." -- School Library Journal"Korman's fast moving, feel-good suspense novel will have middle schoolers, especially boys, turning the pages." -- VOYAPraise for Zoobreak:"Korman again knocks it out of the park . . . interesting, full of humor, and good fun." -- VOYA"Korman's second tale of eleven-year-old Mr. Fix-it Griffin and his friends is a page-turning adventure. . . . The author's fans will be more than pleased." -- Kirkus ReviewsPraise for Framed:"Goofball-funny and addictive." -- Kirkus Reviews

Praise for Swindle:"Pure fun from top to bottom." -- School Library Journal"Korman's fast moving, feel-good suspense novel will have middle schoolers, especially boys, turning the pages." -- VOYAPraise for Zoobreak:"Korman again knocks it out of the park . . . interesting, full of humor, and good fun." -- VOYA"Korman's second tale of eleven-year-old Mr. Fix-it Griffin and his friends is a page-turning adventure. . . . The author's fans will be more than pleased." -- Kirkus ReviewsPraise for Framed:"Goofball-funny and addictive." -- Kirkus Reviews