The Elders (Foxcraft, Book 2) (Paperback)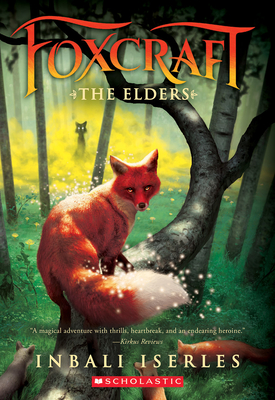 Other Books in Series
This is book number 2 in the Foxcraft series.
Description
---
The second book in a thrilling fantasy trilogy starring one of the animal kingdom's most hunted heroes. Foxcraft is full of excitement and heart, and a touch of magic.Isla's search for her missing brother, Pirie, has brought her to the vast Wildlands. The forest is a treacherous place for a fox cub, but Isla is talented in foxcraft -- ancient arts of cunning known only to her kind.Skilled though she is, Isla's grasp of foxcraft is still new. And she's not alone... A cruel and mysterious fox stalks the forest, with the power to enslave others to his will. In order to survive, Isla must learn to trust in the rustic Wildlands foxes.But there are tales of others -- a council of Elders who are masters of foxcraft, and who warily guard its most potent secrets. If Isla wishes to master her gifts and find her brother, then the Elders may be her only hope.
About the Author
---
Inbali Iserles is an award-winning writer and an irrepressible animal lover. She is one of the team of authors behind the New York Times bestselling Survivors series, writing under the pseudonym of Erin Hunter. Her first book, The Tygrine Cat, won the 2008 Calderdale Children's Book of the Year Award. Together with its sequel, The Tygrine Cat: On the Run, it was listed among The Independent's "50 books every child should read." Inbali attended Sussex and Cambridge Universities. For many years she lived in central London, where a fascination with urban foxes inspired her Foxcraft trilogy. She has recently moved to Cambridge with her family, including her principal writing mascot, Michi, who looks like an Arctic fox, acts like a cat, but is in fact a dog.
Praise For…
---
Praise for Foxcraft:"Vivid details, intriguing characters, and a riveting plot are smoothly executed in this exciting new series. Beautifully rendered and magical." -- Kirkus Reviews, starred review"Iserles takes the actual habits and attributes of real foxes and mixes in magic and a complex social structure. Well-crafted fantasy of the furry kind." -- School Library Journal"A new epic animal fantasy that will make you love foxes, see the furless in a whole new way, and wish you could use fox magic like slimmering, too. Perfect for fans of Warriors and Guardians of Ga'Hoole." -- Tui T. Sutherland, author of the Wings of Fire series

Praise for Foxcraft:"Vivid details, intriguing characters, and a riveting plot are smoothly executed in this exciting new series. Beautifully rendered and magical." -- Kirkus Reviews, starred review"Iserles takes the actual habits and attributes of real foxes and mixes in magic and a complex social structure. Well-crafted fantasy of the furry kind." -- School Library Journal"A new epic animal fantasy that will make you love foxes, see the furless in a whole new way, and wish you could use fox magic like slimmering, too. Perfect for fans of Warriors and Guardians of Ga'Hoole." -- Tui T. Sutherland, author of the Wings of Fire series