The Golden Tower (Magisterium #5) (Paperback)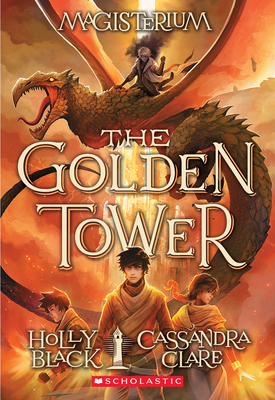 $7.99

Usually Ships in 1-5 Days
Other Books in Series
This is book number 5 in the Magisterium series.
Description
---
The stakes have never been higher than in the final installment of Magisterium from the bestselling powerhouses of Holly Black and Cassandra Clare.Callum Hunt has been a hero and an outcast, a force of good and a portent of evil. While the doors of the Magisterium have been open to him, he has never felt entirely welcome. If anything, he has felt others' resentment . . . and fear.Now, as he begins his final year at the magical school, his place is less certain than ever. With one unique exception, he is estranged from most of his friends. A furtive darkness still hounds him. And the greatest challenge he will ever face is right around the corner. In this monumental conclusion to the Magisterium series, bestselling authors Holly Black and Cassandra Clare push Callum to the brink of annihilation, showing how magic has the ability to both save and doom, create and destroy.
About the Author
---
Holly Black is the #1 New York Times bestselling author of The Spiderwick Chronicles (with Tony DiTerlizzi) and the Newbery Honor-winning novel Doll Bones. Her other books include The Good Neighbors graphic novels, and the novels The Darkest Part of the Forest, Tithe, Valiant, and Ironside. With Cassandra Clare she is the author of the Magisterium series, a New York Times bestseller. She currently lives in the realm of Western Massachusetts.
Cassandra Clare is the author of City of Bones, the first book in The Mortal Instruments trilogy and a New York Times bestseller. Her The Infernal Devices series has spawned three #1 bestsellers. With Holly Black she is the author of the Magisterium series, a New York Times bestseller. Born overseas, Cassandra spent her early years traveling around the world with her family and several trunks of books. She lives in Massachusetts.
Praise For…
---
Praise for Magisterium Book Four: The Silver Mask:"A must-purchase for libraries that carry this series; devotees will be thrilled to get their hands on this installment, which ends on a chilling cliff-hanger. . . . The story grows ever darker and thought provoking." -- School Library JournalPraise for Magisterium Book Three: The Bronze Key:"That cliff-hanger finale alone should be enough to get readers to sign up for book four." -- BooklistPraise for Magisterium Book Two: The Copper Gauntlet:"The Copper Gauntlet is full of twists and turns, surprises and wonders. Ican't wait to read more of this series." -- Rick Riordan, author of the Percy Jackson seriesPraise for Magisterium Book One: The Iron Trial:* "A thrilling coming-of-age story that embraces fantasy tropes while keeping readers guessing." -- Publishers Weekly, starred review"A promising beginning to a complex exploration of good and evil, as well asfriendship's loyalty." -- Kirkus Reviews"The Iron Trial is a fun, heroic narrative . . . A delicious must-read." -- The Globe & Mail"This is an incredible book . . . . Once you've started reading, it's hard to put the book down." -- The Guardian

Praise for Magisterium Book Four: The Silver Mask:"A must-purchase for libraries that carry this series; devotees will be thrilled to get their hands on this installment, which ends on a chilling cliff-hanger. . . . The story grows ever darker and thought provoking." -- School Library JournalPraise for Magisterium Book Three: The Bronze Key:"That cliff-hanger finale alone should be enough to get readers to sign up for book four." -- BooklistPraise for Magisterium Book Two: The Copper Gauntlet:"The Copper Gauntlet is full of twists and turns, surprises and wonders. Ican't wait to read more of this series." -- Rick Riordan, author of the Percy Jackson seriesPraise for Magisterium Book One: The Iron Trial:* "A thrilling coming-of-age story that embraces fantasy tropes while keeping readers guessing." -- Publishers Weekly, starred review"A promising beginning to a complex exploration of good and evil, as well asfriendship's loyalty." -- Kirkus Reviews"The Iron Trial is a fun, heroic narrative . . . A delicious must-read." -- The Globe & Mail"This is an incredible book . . . . Once you've started reading, it's hard to put the book down." -- The Guardian