The Same Stuff As Stars (Paperback)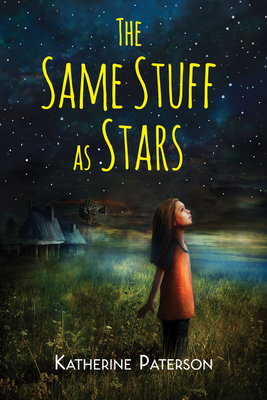 $7.99
Email or call for price.
Description
---
Angel Morgan needs help. Daddy is in jail, and Mama has abandoned her and her little brother, leaving them with their great-grandmother. Grandma is aged and poor, and doesn't make any attempt to care for the children—that's left up to Angel, even though she is not yet twelve. The only bright spot in Angel's existence is the Star Man, a mysterious stranger who appears on clear nights and teaches her all about the stars and planets and constellations. "We're made out of the same stuff as the stars," he tells her.

Eventually, Grandma warms to the children and the three begin to cobble together a makeshift family. Then events in Angel's life take yet another downturn, and she must once again find a way to persevere.
About the Author
---
Katherine Paterson's international fame rests not only on her widely acclaimed novels but also on her efforts to promote literacy in the United States and abroad. A two-time winner of the Newbery Medal (Bridge to Terabithia and Jacob Have I Loved) and the National Book Award (The Great Gilly Hopkins and The Master Puppeteer), she has received many accolades for her body of work, including the Laura Ingalls Wilder Medal, the Hans Christian Andersen Medal, the Astrid Lindgren Memorial Award, and the Governor's Award for Excellence in the Arts, given by her home state of Vermont. She was also named a Living Legend by the Library of Congress. She served as the National Ambassador for Young People's Literature in 2010-2011.Ms. Paterson is vice president of the National Children's Book and Literacy Alliance (www.thencbla.org), which is a not-for-profit education and advocacy organization. The NCBLA's innovative projects actively promote literacy, literature, libraries, and the arts.  She is both an Alida Cutts Lifetime Member of the United States Board on Books for Young People (www.usbby.org) and a lifetime member of the International Board on Books for Young People (www.ibby.org).She and her husband, John, live in Montpelier, Vermont. They have four children and seven grandchildren. For more information, visit www.terabithia.com.

Praise For…
---
"A gently written tale of family caught in the most corrosive of situations,…readers will recognize and root for Angel." Kirkus Reviews, Starred

5Q/5P "Paterson's deft characterization, her insight into the human soul, and her glorious prose make this book one to rejoice over." VOYA (Voice of Youth Advocates)

"Paterson's beautiful words root the wonder of astronomy in gritty details of daily survival. This focused story evokes timeless tales." Booklist, ALA

"Thanks to the fine talent of Paterson, children's literature has another memorable heroine." KLIATT

"Those who love her work will celebrate; those who aren't familiar with it will have discovered a new star." Riverbank Review

"Paterson's salt-of-the-earth style is in fine form here, making Angel's dilemma credible, and Angel herself a compelling and believable figure." The Bulletin of the Center for Children's Books

"...Magical book...takes place in the most unmagical...circumstances...complex story...about what it takes to be a good person." NEW YORK TIMES BOOK REVIEW New York Review of Books

"Angel is an ultimately triumphant character." The HORN BOOK GUIDE, Pointer Review Horn Book Guide, Pointer —