Backgammon for Dummies (Paperback)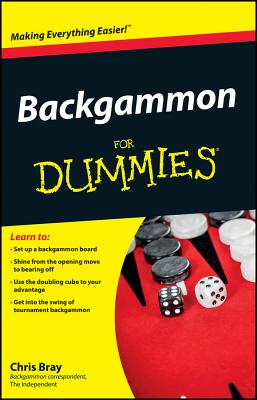 $17.99

Usually Ships in 1-5 Days
Description
---
A comprehensive and fun guide to Backgammon
Backgammon is one of the oldest games in the world, the origins of which date back some 5000 years - and it's still going strong. It enjoyed a huge resurgence in the 1970s, and then again in the 1990s with the popularity of the Internet, where millions of people play tournaments online every day.
Today, backgammon's following in the UK is huge, with a dedicated British Isles Backgammon Association, and hundreds of face-to-face tournaments taking place across the UK every year.
In this book, backgammon expert Chris Bray walks you through the basics of setting up a board, opening strategies, middle and end-game tactics, and tips on when to make key moves. You'll also get to grips with basic probabilities, the doubling cube and the 25% rule. And if you want to take your gaming further, there's plenty of advice to get you started in tournament backgammon, as well as playing online.
Suitable for both beginners and experienced player looking for more tips and techniques, Backgammon For Dummies includes coverage on:
Starting and Playing the Game
Handling the Middle Game
Bearing Off (The Last Lap)
Varying the Play
About the author
About the Author
---
Chris Bray has been playing backgammon for over 30 years, and started writing a weekly backgammon column for The Independent newspaper in 1994. A regular fixture on the London backgammon scene, he also takes part in tournaments around the world, and regularly gives seminars on backgammon and sports psychology.