When the Sky Fell on Splendor (Paperback)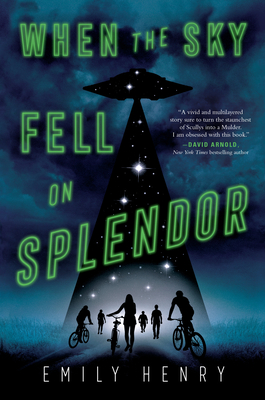 $10.99
Email or call for price.
Description
---
From the #1 New York Times bestselling author of Beach Read and People We Meet on Vacation, comes a gripping story about a group of friends in a small town who find themselves dealing with unexpected powers after a cosmic event.

Almost everyone in the small town of Splendor, Ohio, was affected when the local steel mill exploded. If you weren't a casualty of the accident yourself, chances are a loved one was. That's the case for seventeen-year-old Franny, who, five years after the explosion, still has to stand by and do nothing as her brother lies in a coma.

In the wake of the tragedy, Franny found solace in a group of friends whose experiences mirrored her own. The group calls themselves The Ordinary, and they spend their free time investigating local ghost stories and legends, filming their exploits for their small following of YouTube fans. It's silly, it's fun, and it keeps them from dwelling on the sadness that surrounds them.

Until one evening, when the strange and dangerous thing they film isn't fiction--it's a bright light, something massive hurtling toward them from the sky. And when it crashes and the teens go to investigate...everything changes.
About the Author
---
Emily Henry is the author of the adult books Beach Read and People We Meet on Vacation. She is a full-time writer, proofreader, and donut connoisseur. She studied creative writing at Hope College and the New York Center for Art & Media Studies, and now spends most of her time in Cincinnati, Ohio, and the part of Kentucky just beneath it. She tweets @EmilyHenryWrite.
Praise For…
---
"Henry tackles profound loss and grief with sensitivity while emphasizing the preciousness of human connection in this vast and wondrous universe....Exciting, heartbreaking, and far from ordinary." —Kirkus

"From Henry, one of YA's preeminent voices, comes another exquisite, genre-bending novel....Fast-paced and intricately plotted, the story rockets toward an unexpected, sublime conclusion. Though resting comfortably in science fiction, it becomes clear in the end that this book is about so much more." —Booklist

"Author Emily Henry impressively melds a combination of Stranger Things and Contact in forming her narrative that is sure to please sci-fi fans and speak to any teen longing for a bigger, better world outside of their hometown…a story with action, a few good scares, and a big heart." —School Library Connection

"Fraught with both hidden and not-so-hidden darkness, this plot has them all, and readers will be drawn to this fast-paced page-turner. Henry has crammed plenty of atmospheric, small-town spookiness into her book." —School Library Journal

"A fun, suspenseful story about teenagers exploring the paranormal." —VOYA

"A vivid and multilayered story sure to turn the staunchest of Scullys into a Mulder. I am obsessed with this book." —New York Times bestselling author David Arnold

"Eerie, intriguing, and full of hold-your-breath moments, When the Sky Fell on Splendor is a thrilling and heartfelt portrayal of how true friendship can fill otherwise ordinary lives with splendor." —Parker Peevyhouse, author of Where Futures End and The Echo Room

"A thrilling read that is as twisty and spooky as it is profound and evocative. Emily Henry's prose is haunting and poignant, and her characters are so real and relatable that I started missing them as soon as I set the book down." —Romina Russell, New York Times bestselling author of the Zodiac series