A Crack in the Sea (Paperback)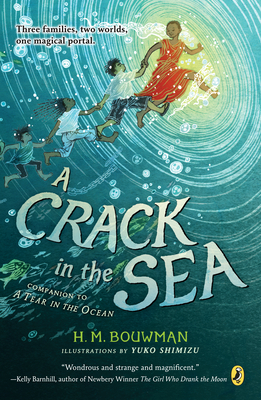 $8.99
Email or call for price.
Description
---
An enchanting historical fantasy adventure perfect for fans of Thanhha Lai's Newbery Honor-winning Inside Out and Back Again
 
No one comes to the Second World on purpose. The doorway between worlds opens only when least expected. The Raft King is desperate to change that by finding the doorway that will finally take him and the people of Raftworld back home. To do it, he needs Pip, a young boy with an incredible gift—he can speak to fish; and the Raft King is not above kidnapping to get what he wants. Pip's sister Kinchen, though, is determined to rescue her brother and foil the Raft King's plans.
 
This is but the first of three extraordinary stories that collide on the high seas of the Second World. The second story takes us back to the beginning: Venus and Swimmer are twins captured aboard a slave ship bound for Jamaica in 1781. They save themselves and others from a life of enslavement with a risky, magical plan—one that leads them from the shark-infested waters of the first world to the second. Pip and Kinchen will hear all about them before their own story is said and done. So will Thanh and his sister Sang, who we meet in 1978 on a small boat as they try to escape post-war Vietnam. But after a storm and a pirate attack, they're not sure they'll ever see shore again. What brings these three sets of siblings together on an adventure of a lifetime is a little magic, helpful sea monsters and that very special portal, A Crack in the Sea.
About the Author
---
H.M. Bouwman is the author of The Remarkable & Very True Story of Lucy & Snowcap (Marshall Cavendish, 2008). An associate professor of English at the University of St. Thomas, she lives in St. Paul, Minnesota, with her two sons. A Crack in the Sea is her second novel.

Yuko Shimizu is a Japanese illustrator based in New York City and an instructor at the School of Visual Arts. In 2009, Newsweek Japan chose Yuko as one of the "100 Japanese People the World Respects." Yuko is the illustrator of the picture book Barbed Wire Baseball, and her work can also be seen on Gap T-shirts, Pepsi cans, Visa billboards, and Microsoft and Target ads, as well as on numerous book covers and in the pages of The New York Times, Time, Rolling Stone, The New Yorker and many others.
Praise For…
---
Praise for A Crack in the Sea:

Winter 2016-2017 Kids' Indie Next Pick 
A Midwest Connections Pick for January 2017
A Maine Student Book Award 2018-2019 Reading List Pick for Grades 4-6 and 4-8
A Sunshine State Young Readers Award Book 2018-2019 List Pick for Grades 6-8


★ "Through the captivating interwoven tales of these three sibling pairs—and with assistance from Shimizu's powerful ink illustrations—Bouwman crafts a moving narrative about family, magic, morality, the power of storytelling, and the cyclical nature of history."—Publishers Weekly, starred review

"This novel touches on sensitive and tragic moments in history and gives them fantastical remediation for a provocative, immersive read."—Kirkus Reviews 

"Fans of Grace Lin will love this wholly original book that reads like a fairy tale. A moving and thought-provoking choice for library collections."—School Library Journal

"A Crack in the Sea is a moving work of conscience and a numinously magical journey. Trust this book."—William Alexander, National Book Award–winning author of Goblin Secrets
"Bouwman weaves together these stories of freedom and escape with a deep sense of respect and emotion, bringing the reader directly into each family's search for a safety that transcends both time and space."—Booklist 

 "Bouwman ably weaves these threads together into a curious, haunting whole that references oppression, family, magic, and a human desperation for safety that transcends time and place. . . . Detailed black and white illustrations invite contemplation and work well to highlight key moments in the novel, adding artistic flair to the already lyrical story."—BCCB 

"Fantasy fans will be drawn into this story and find it hard to put down."—School Library Connection 

"[C]onstantly engaging and enlightening."—BookPage

"[T]his book will captivate readers who like their fantasy spiced with real-life drama."—Common Sense Media

"This complex, compelling, and thoughtful novel begins in 1978 on Tathenn, a fantastical island world. . . . Bouwman has done her research well . . . keeping her young characters' journeys—physical and emotional—front and center. Their tenderness, fierceness, bravery, thoughtfulness, and goodness highlight themes of family, leadership, and telling of history. . . . Shimizu's vivid interspersed black-and-white illustrations . . . add to the drama of the storytelling in this original and engrossing book."—The Horn Book