Took Graphic Novel: A Ghost Story (Hardcover)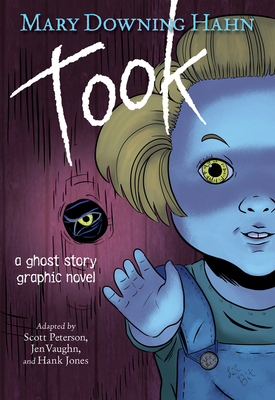 $24.99

Usually Ships in 1-5 Days
Description
---
Daniel doesn't believe the woods behind his new home are haunted by an evil witch and her terrifying beast. But then his little sister disappears . . . and it's up to him to find her. This chilling graphic-novel version of Mary Downing Hahn's popular page-turner will thrill readers who love spooky stories.
They say that a ghost witch lives in the woods, up on the hill. They say her companion has a pig skull for a face and stands taller than a man, his skeleton gleaming in the moonlight. They say that the witch takes young girls, and no one ever sees them again.
Daniel doesn't believe the stories. He figures the kids on the bus are just trying to scare him since he's new. Still, he wishes his family had never moved here—their house is a wreck, Mom and Dad keep fighting, and his little sister, Erica, spends most of her time talking to her creepy doll.
But when Erica disappears into the woods one day, Daniel knows something is terribly wrong. Has she been "took"?
For more spooky graphic novels from Mary Downing Hahn, check out Wait Till Helen Comes, All the Lovely Bad Ones, and The Old Willis Place!
About the Author
---
Mary Downing Hahn's many acclaimed novels include such beloved ghost stories as Wait Till Helen Comes, Deep and Dark and Dangerous, and Took. A former librarian, she has received more than fifty child-voted state awards for her work. She lives in Columbia, Maryland, with a cat named Nixi.
Jen Vaughn
's work includes the 
Goosebumps: Download and Die! 
comics series and 
The Secret Loves of Geek Girls
, as well as covers for 
My Little Pony
, 
Pathfinder
, 
The Wilds 
and more. She was also a longtime marketing director at Fantagraphics Books. Twitter: @TheJenya, Instagram: @thejenya. hauntedvaultstudios.com