The Willoughbys Return (Hardcover)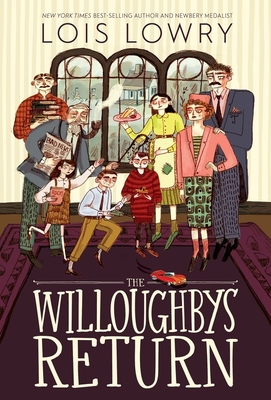 $17.99

Usually Ships in 1-5 Days
Description
---
It's been 30 years and with rising temperatures melting icy mountain tops the previously frozen Willoughbys have thawed out and are about to return! From living legend and Newbery medalist Lois Lowry comes a hilarious sequel to New York Times bestseller The Willoughbys—soon to be an animated film starring Ricky Gervais, Maya Rudolph, Terry Crews, Martin Short, Jane Krakowski, and Sean Cullen on Netflix!
Although they grew up as wretched orphans, the Willoughby siblings also became heirs to the the Melanoff candy company fortune. Everything has turned out just splendidly, except for one problem: Richie Willoughby, son of Timothy Willoughby, is an only child and is quite lonely.
Winifred and Winston Poore have long admired the toys of their neighbor Richie Willoughby and finally befriend the mysterious boy next door. But just as Richie finally begins to make friends, selling sweets is made illegal, and the family's fortune is put in jeopardy. To make matters worse, Richie's horrible Willoughby grandparents—frozen atop a Swiss mountain thirty years ago—have thawed, remain in perfect health, and are making their way home again.
What is the point of being the reclusive son of a billionaire when your father is no longer a billionaire? What is the future without candy in it? And is there any escaping the odiousness of the Willoughbys? These are the profound questions with which Newbery medalist and ignominious author Lois Lowry grapples in The Willoughbys Return.
About the Author
---
Lois Lowry is the author of more than forty books for children and young adults, including the New York Times bestselling Giver Quartet and the popular Anastasia Krupnik series. She has received countless honors, among them the Boston Globe–Horn Book Award, the Dorothy Canfield Fisher Award, the California Young Reader Medal, and the Mark Twain Award. She received Newbery Medals for two of her novels, Number the Stars and The Giver.
Praise For…
---
"The Willoughbys Return offers plenty of delightful silliness for younger readers too, from its nuttily arch dialogue to its winningly absurdist plot and subplots.... Lowry proves yet again that she has the imaginative power to transport."—New York Times Book Review "An entertainingly absurd revival that recalls Roald Dahl's oeuvre."—Publishers Weekly "Archly comedic.... Lowry's exaggerated characters and breezy, unlikely plot are highly entertaining."—Kirkus "Lowry exaggerates and gently mocks the conventions of old-fashioned fiction, while capturing readers with her sure-handed storytelling and wry wit."—Booklist   —