Pay Attention, Carter Jones (Paperback)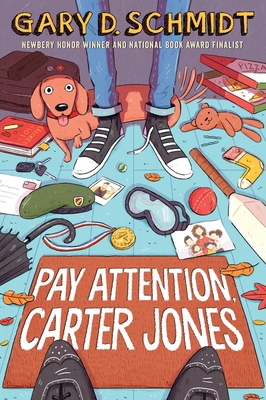 $7.99

Usually Ships in 1-5 Days
Description
---
Carter Jones is astonished early one morning when he finds a real English butler, bowler hat and all, on the doorstep—one who stays to help the Jones family, which is a little bit broken.

In addition to figuring out middle school, Carter has to adjust to the unwelcome presence of this new know-it-all adult in his life and navigate the butler's notions of decorum. And ultimately, when his burden of grief and anger from the past can no longer be ignored, Carter learns that a burden becomes lighter when it is shared.

Sparkling with humor, this insightful and compassionate story will resonate with readers who have confronted secrets of their own.
About the Author
---
Gary D. Schmidt is the bestselling author of The Labors of Hercules Beal; Just Like That; National Book Award finalist Okay for Now; Pay Attention, Carter Jones; Orbiting Jupiter; the Newbery Honor and Printz Honor Book Lizzie Bright and the Buckminster Boy; and the Newbery Honor Book The Wednesday Wars. He lives in rural Michigan.
Praise For…
---
? "Schmidt gracefully weaves together the humor of school, siblings, and a dachshund with a delicate digestive system with deeper themes of family connection, disappointment, anger, and grief. The result is wonderfully impressive and layered."—Kirkus, STARRED review ? "Schmidt, author of the celebrated Wednesday Wars, strikes gold again with this emotionally complex character who learns to navigate change and disappointment, and, more important, how to receive help."—School Library Journal, STARRED review ? "[Carter Jones'] engaging narrative leads readers through a broad range of emotions in this beautifully written, often amusing, and ultimately moving novel."—Booklist, STARRED review ? "Schmidt (Orbiting Jupiter) fuses pathos and humor in this adroitly layered novel....Opening each chapter with a definition of a cricket term, Schmidt weaves the sport's jargon into the narrative, further enriching the verbal badinage and reinforcing the affecting bond between a hurting boy and a compassionate man."—Publishers Weekly, STARRED review ? "Deft use of comedic scenes and Schmidt's trademark use of narrator-provided snark give the story the levity it needs to counteract the surprising number of tears readers are likely to shed."—Horn Book, STARRED review "[A] story with weight and heart, and Schmidt fans will be glad to see him back on the pitch."—The Bulletin of the Center for Children's Books? —