My Little Pony: Rarity's Charity (Paperback)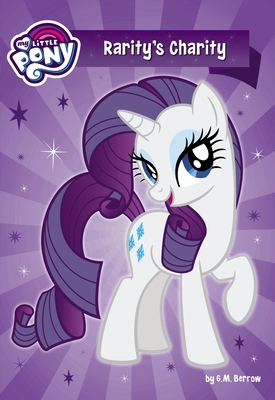 Description
---

Rarity is so stupendously excited to bond with her new apprentice, Charity, over fashion, glitz, and glamour. But when Charity dyes her mane and tail to look more like Rarity and begins copying her every move, Rarity realizes that this pony is a problem! How will Rarity show Charity that the best pony to be is yourself?
Printed entirely in violet ink with brand-new illustrations throughout, young readers are sure to love this adaptation of My Little Pony: Rarity and the Curious Case of Charity!
© 2019 Hasbro. All Rights Reserved.
About the Author
---
G.M. (Gillian) Berrow is a writer and television industry professional. She has ghostwritten young adult novels based on the show Glee (under the name Sophia Lowell), and in conjunction with leading cheerleading brand, Varsity (under the name Melanie Spring). She is also the author of many My Little Pony chapter books and middle grade novels, including the beloved in-world book series, the Daring Do Adventures. She loves writing about ponies, playing with her miniature poodle, and making puns.