VIP: Battle of the Bands (Paperback)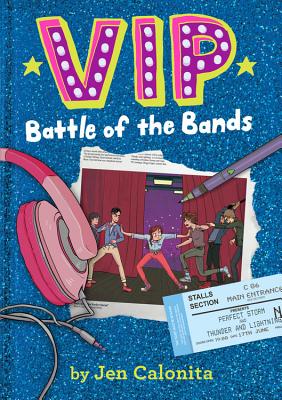 Other Books in Series
This is book number 2 in the VIP series.
About the Author
---
Jen Calonita is the author of the VIP, Secrets of My Hollywood Life and Fairy Tale Reform School series, and a former magazine editor who has interviewed everyone from Justin Timberlake to Beyoncé. She lives in New York with her husband, Mike; sons, Dylan and Tyler; and their Chihuahua, Captain Jack Sparrow.
Praise For…
---
Praise for VIP: Battle of the Bands:
"[Sufficiently] suffused with the realistic energy of a preteen fan traveling with her favorite band.... this offering's high-energy, high-interest diary format interspersed with Mac's comics keeps the pages turning.... A fast read frothing over with sugary pep and cuteness."—
Kirkus Reviews
"Calonita nicely captures the extremes of tween emotions, with appropriate squeals, swoons, and tears. Friendship and loyalty take center stage in this enjoyable addition to the VIP series."
—
Booklist
Praise for VIP: I'm With the Band:
An Amazon Best Books of December 2015 Selection
"Written in diary entries and interspersed with vaguely manga-styled illustrations as well as some of Mackenzie's comic-book stories, this hits the sweet spot for fans of Dork Diaries. This tale of ultimate wish fulfillment is a must-read for starry-eyed fans of boy bands."—
Kirkus Reviews
"Calonita (
Flunked
) targets Directioners and other boy band devotees with this effervescent first book in the V.I.P. series...Gudsnuk, creator of the
Henchgirl
webcomic, provides exuberant comics sequences and spot illustrations throughout...The real meat of this diary-style story lies in the behind-the-scenes details of life on tour, as well as Mac's relationships with the band members as she gets to know them as real people."—
Publishers Weekly
"Calonita captures squealing tween-girl excitement perfectly in this diary-style novel, but she makes sure being a fangirl isn't Mac's only M.O. Her ambitions to be an artist not only feature in the plot but also in its illustrations..."
—
Booklist
"A fun read for middle school students... [who] can relate to Mac's joy in writing in her journal. All problems are resolved in the end, and Mac and her mother are looking forward to continuing on the band's tour."
—
School Library Connection
"Cute boy banders? Backstage drama? And a butt-kicking comic book heroine? VIP: I'm With the Band is an all-access pass to fun! Don't miss the debut of Jen Calonita's delightful new series!"
—
Megan McCafferty, New York Times Bbestselling author of Jessica Darling's IT LIST series
"This behind-the-scenes story of a girl who gets to travel with her favorite boy band is funny and filled with heart. A wonderful start to a brand new series."
—
Suzanne Selfors, author of the Imaginary Veterinary and Ever After High: A School Story series
"A sassy and adorable wish-fulfillment adventure that had me squealing and goofy smiling. The characters, the comics, the concerts... I promise, you're going to want to marry this book."
—
Lindsey Leavitt, author of The Pages Between Us and Princess for Hire
"A sweet and hilarious adventure about fandom, friendship, and family. Jen Calonita has captured the perfect storm of being twelve and finding yourself within reach of your wildest dream."
—
Jennifer Ziegler, author of Revenge of the Flower Girls