Seven Wild Sisters: A Modern Fairy Tale (Paperback)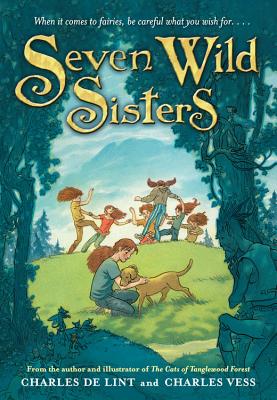 $9.99
Email or call for price.
Description
---
This full-color, illustrated companion novel to The Cats of Tanglewood Forest includes "beautiful bookmaking, lovely storytelling, and wondrous illustrations....Readers will be enchanted" (Kirkus Reviews, starred review). This captivating adventure from two masters of modern fantasy is a story of magic, family, and the power in believing in both. Sarah Jane has always wanted to meet a fairy, but she has no idea that the tiny wounded man she discovers in the Tanglewood Forest is about to ensnare her in a longtime war between rival magical clans. When her six sisters are kidnapped and split up by the opposing sides, she'll need the help of several friends--from the reclusive Aunt Lillian to the mysterious Apple Tree Man--to bring them home. But if they don't untangle themselves from the feud quickly, they could all be trapped in the fairy world forever. In a starred review, Publishers Weekly noted "the lyrical narrative blends a contemporary setting with a fairy tale that might have been plucked from a distinctly different time and place.
About the Author
---
Charles De Lint is the much beloved author of more than seventy adult, young adult, and children's books, including The Cats of Tanglewood Forest, The Blue Girl, The Painted Boy, and Under My Skin. Well-known throughout fantasy and science-fiction circles as one of the trailblazers of the modern fantasy genre, he is the recipient of the World Fantasy, White Pine, Crawford, and Aurora awards. De Lint is a poet, songwriter, performer, and folklorist, and he writes a monthly book-review column for the Magazine of Fantasy & Science Fiction. He shares his home in Ottawa, Canada, with his wife, MaryAnn Harris.

Charles Vess is a world-renowned artist and a three-time winner of the World Fantasy Award, among several others. His work has appeared in magazines, comic books, and novels, including The Cats of Tanglewood Forest, The Coyote Road: Trickster Tales, Peter Pan, The Book of Ballads, and Stardust, written by Neil Gaiman and made into an acclaimed film by Paramount Pictures in 2007. Vess has also illustrated two picture books with Gaiman, Instructions and Blueberry Girl, that were New York Times bestsellers. His art has been featured in several gallery and museum exhibitions across the United States as well as in Spain, Portugal, the United Kingdom, and Italy. He lives on a small farm and works from his studio, Green Man Press, in southwest Virginia.