A Force More Powerful: A Century of Non-violent Conflict (Paperback)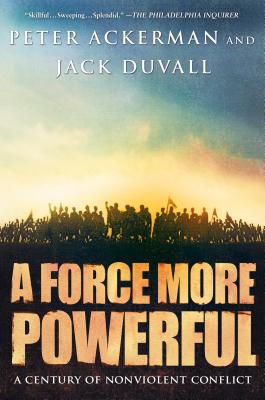 $24.99

Usually Ships in 1-5 Days
Description
---
This nationally-acclaimed book shows how popular movements used nonviolent action to overthrow dictators, obstruct military invaders and secure human rights in country after country, over the past century. Peter Ackerman and Jack DuVall depict how nonviolent sanctions--such as protests, strikes and boycotts--separate brutal regimes from their means of control. They tell inside stories--how Danes outmaneuvered the Nazis, Solidarity defeated Polish communism, and mass action removed a Chilean dictator--and also how nonviolent power is changing the world today, from Burma to Serbia.
About the Author
---
Things You Shouldn't Say Past Midnight is Peter's debut play, and ran off-Broadway in New York for six months and regionally throughout the US. It was recorded for radio by LA Theatre Works and broadcast on member NPR stations in the US and Canada. Peter has since written The Urn, which ran off off-Broadway and a radio play, I'd Rather Eat Pants. He is co-author of the animated movie, Ice Age, and is currently writting Jumanji 2 for Sony. As an actor he appeared off-Broadway in The Complete Works of William Shakespeare (Abridged) and in Visiting Mr Green.
Jack DuVall is President of the International Center on Nonviolent Conflict.
Praise For…
---
"A Force More Powerful challenges a longstanding myth that lies at the heart of much of the turmoil of the 20th century: that power comes from the barrel of a gun; based on convincing detail, Ackerman and Duvall dare to claim that nonviolent movements lead to more secure democracies." —Christian Science Monitor

"A skillful blend of sweeping narrative and tightly focused case studies, the book fills a vacuum in historical studies of the 20th century." —Philadelphia Inquirer

"This throughly researched and highly readable book underlines the contrast between stable democratic societies created by nonviolent movements and tyrannical regimes born of violent revolution. Recommended..." —Library Journal

"...this book is an important documentation of non-violence as an attested historical force." —The Times Higher Education Supplement