The Future of Education: Reimagining Our Schools from the Ground Up (Paperback)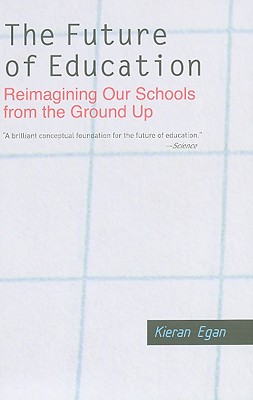 Description
---
A critique of contemporary education along with an imaginative yet practical alternative

This engaging book presents a frontal attack on current forms of schooling and a radical rethinking of the whole education process. Kieran Egan, a prize-winning scholar and innovative thinker, does not rail against teachers, administrators, or politicians for the failures of the school. Instead he argues that education today is built on a set of mutually exclusive goals that are destined to defeat our best efforts.
Egan explores the three big ideas and aims of education—academic, social, and developmental growth—and exposes their flaws and fundamental incompatibility. He then proposes and describes a process called Imaginative Education that would dramatically change teaching and curriculum while delivering the skills and understanding that we all want our children to acquire. His speculative narrative of education from 2010 to 2060—executed with wit and verve—shows how we might very well get there from here.
About the Author
---
Kieran Egan is professor of education, Simon Fraser University, and author of Getting It Wrong from the Beginning. He lives in Vancouver.
Praise For…
---
"Egan's compelling and original approach to much-needed education reform is delivered through a very imaginative and engaging narrative."—John Willinsky, Stanford University
— John Willinsky
"Kieran Egan is one of the most original 'big picture' thinkers in education. I always read what he writes. In his latest book, Egan critiques both traditional and progressive education and puts forth his own provocative ideas on how change might be implemented."—Howard Gardner, author of
Five Minds for the Future
and
Multiple Intelligences
— Howard Gardner
"Egan provides a brilliant conceptual foundation for the future of education. . . . As we move further into a new century, there is greater need than ever to bring bright ideas to the table to deal with the challenges and opportunities for educating thoughtful, humane, and innovative citizens. Egan's account in
The Future of Education
is an ingenious attempt to do this."—James V. Wertsch,
Science
— James V. Wertsch
". . . a brilliant conceptual foundation for the future of education. . . . [T]here is greater need than ever to bring bright ideas to the table to deal with the challenges and opportunities for educating. . . . Egan's account . . . is an ingenious attempt to do this."—James V. Wertsch,
Science
— James V. Wertsch
Winner of the 2011 AACTE Outstanding Book Award given by the American Associate of Colleges for Teacher Education
— American Association of Colleges for Teacher Education Outstanding Book Award