Horrible Harry and the Birthday Girl (Paperback)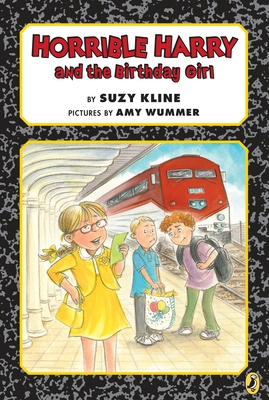 $4.99
Email or call for price.
Other Books in Series
This is book number 34 in the Horrible Harry series.
Description
---
In the 34th Horrible Harry book, Mary's plans for a perfect birthday party go horribly wrong--can her friends save the day?

Mary is always neat and organized, while Harry is horribly messy. But even Mary's carefully planned schedule can't help when things go wrong at her own birthday party. The party is supposed to start with the kids from Room 3B taking an exciting train ride, but when their train is delayed not one . . . not two . . . but three times, Mary's plan is completely ruined! She thinks the only thing that can make her feel better is cup after cup of sugary Island Punch—even after her mom tells her to stop. But what Mary doesn't know is that Harry has his own wacky ideas for saving Mary's big day. Can the kids still have fun even when nothing's going the way it's supposed to, or will this be the most horrible birthday ever?


Praise for the Horrible Harry series:
"Room 2B is every child's dream...This is one school story which rates an A+."—School Library Journal (Horrible Harry and the Green Slime)

"Another perfect chapter book for transitional readers."—School Library Journal (Horrible Harry and the Drop of Doom)

"Kline has an exceptional talent for capturing the language, humor, and group dynamics of a primary grade classroom... An attractive read for children just beginning to tackle novel length fiction."—School Library Journal (Song Lee in Room 2B)
About the Author
---
Suzy Kline (www.suzykline.com) has written thirty-two previous Horrible Harry books. She is also the author of numerous popular children's books, including the Orp books and the Herbie Jones series. She taught elementary school for twenty-seven years and now does scores of school visits in addition to her writing. 

Amy Wummer has illustrated many children's books, including the Marvin Redpost series by Louis Sachar and a number of previous books in the Horrible Harry series. She and her husband live in Reading, Pennsylvania, with their three children.
Praise For…
---
Praise for the Horrible Harry series:
"Good bait for reluctant readers."—Booklist (Horrible Harry in Room 2B)

"Room 2B is every child's dream . . . This is one school story which rates an A+."—School Library Journal (Horrible Harry and the Green Slime)

"Fun and funny, with a credible mystery, and Kline is right on the mark when it comes to both her audience and her characters."—Booklist (Horrible Harry and the Locked Closet)

"Another perfect chapter book for transitional readers."—School Library Journal (Horrible Harry and the Drop of Doom)

"Delightful . . . The characters are real and the story is fresh."—School Library Journal (Horrible Harry and the Kickball Wedding)

"Harry's many fans will clamor for this enjoyable story."—Booklist (Horrible Harry Moves Up to Third Grade)

"Kline writes in an upbeat and humorous style that will appeal to beginning as well as reluctant readers."—School Library Journal (Horrible Harry Takes the Cake)

"There's laughs plenty in the short, snappy text--just the thing to turn on new readers to books."—Booklist (Horrible Harry and the Green Slime)

"Amusing characterizations, snappy dialogue, and a happy ending give this breezy little story the appeal of a good television sitcom."—Kirkus Reviews (Song Lee and the Hamster Hunt)

"Kline has an exceptional talent for capturing the language, humor, and group dynamics of a primary grade classroom . . . An attractive read for children just beginning to tackle novel length fiction."—School Library Journal (Song Lee in Room 2B)

"Kline's breezy text features short chapters, believable characters and situations, and just enough drama for the beginning chapter book set."—Booklist (Horrible Harry and the Drop of Doom)

"Not many series reach the 20-year mark, but this one is still going strong."—Booklist (Horrible Harry Bugs the Three Bears)