The Midnight Star (The Young Elites) (Paperback)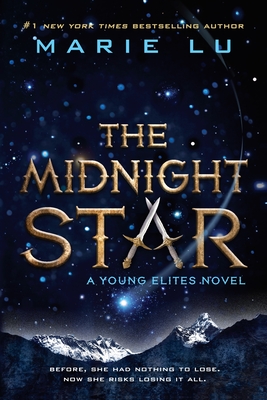 $12.99
Email or call for price.
Description
---
The thrilling finale to the New York Times bestselling Young Elites series from "hit factory" Marie Lu

#1 New York Times bestselling author Marie Lu concludes Adelina's story with this haunting and hypnotizing final installment to the Young Elites series.

Adelina Amouteru is done suffering. She's turned her back on those who have betrayed her and achieved the ultimate revenge: victory. Her reign as the White Wolf has been a triumphant one, but with each conquest her cruelty only grows. The darkness within her has begun to spiral out of control, threatening to destroy all she's gained.  When a new danger appears, Adelina's forced to revisit old wounds, putting not only herself at risk, but every Elite. In order to preserve her empire, Adelina and her Roses must join the Daggers on a perilous quest—though this uneasy alliance may prove to be the real danger.



About the Author
---
Marie Lu is the author of the #1 New York Times bestselling series The Young Elites, as well as the blockbuster bestselling Legend series. She graduated from the University of Southern California and jumped into the video game industry as an artist. Now a full-time writer, she spends her spare time reading, drawing, playing games, and getting stuck in traffic. She lives in Los Angeles, California, with her husband, one Chihuahua mix, and two Pembroke Welsh corgis.
Praise For…
---
Praise for The Midnight Star:

"The New York Times-bestselling series is unique in that its protagonist is also the villain, making Adelina the most prominent antihero in YA fiction today."—Teen Vogue

"In a series featuring a roster of diverse, super-powered teens, Adelina's path to darkness is the most fascinating as she struggles to control her powers and assert herself in a world often cruel to women like her."—The Washington Post

★ "Lu brings her Young Elites trilogy to a thunderous close with this final installment. … [T]his is a worthy, bittersweet end. More than ever, it is the bond between sisters and the struggle to be human that take center stage in this heartrending finale."—Booklist, starred review

"The affecting conclusion to the Young Elites trilogy relishes ardent emotion… Like many a classic antihero's, Adelina's trajectory is both sobering and satisfying."—Kirkus Reviews 
 
"Lu's intricate and well-crafted plot, filled with steady conflict between characters and stunning, vivid settings, will hook readers. Fans will not be disappointed."—Romantic Times Book Reviews


Praise for The Young Elites:
A New York Times bestseller!
Five starred reviews!
A Buzzfeed Best YA Book of 2014!
An Amazon Best Book of 2014 – Teen & Young Adult!
An Amazon Best Book of the Month, October 2014!
Chosen as a YALSA Teens' Top Ten Pick for 2015!

★ "Lu pivots from the 'coming of age via romance' formula to pry apart the many emotions that pass under the rubric of love… There's nothing easy here, for Adelina or readers—there are no safe places where the pressures of betrayal, death threats, and rejection aren't felt."—Publishers Weekly, starred review

★ "Readers should prepare to be captivated—and to look forward to a continuation of the Young Elites series."—Booklist, starred review

★ "A must for fans of…totally immersive fantasies." —Kirkus Reviews, starred review

★ "A Game of Thrones meets X-Men in this 14th-century fantasy from Marie Lu (the Legend trilogy), in a world where 'fear is power.' … The overriding epic fantasy will keep readers hooked for book two, which teases to be a game-changer. Bring it on." —Shelf Awareness, starred review

★ "The taut, tightly packed narrative provides an engaging mix of pulse-quickening fight scenes, heart-stopping near escapes, touching interpersonal interludes, and devastating betrayals." —BCCB, starred review

"Lu weaves her magic across the page as she unfolds the story of Adelina and the Young Elites. Nothing is as it is expected."—VOYA

"Lu seamlessly melds an unforgettable and intoxicating historical fantasy narrative with a strong female protagonist that grapples with an issue experienced by all young adults—acceptance of one's self… Lu's new series will be a surefire hit with old and new fans alike."—School Library Journal

"By permitting her characters some grand failures, she raises the stakes in the best way possible…There is clearly more to know, and I look forward to it. This is a world worth revisiting."—The New York Times Book Review

"The Young Elites is beyond brilliant! From the moment I began reading, I knew Adelina was like no one I'd ever met—an unforgettable cast of characters will seize your heart and send your moral compass spinning."—Amie Kaufman, award-winning co-author of These Broken Stars
 
"Bold, powerful, and exploding with color and excitement. I can't wait for everyone to read this book."—Tahereh Mafi, New York Times bestselling author of the Shatter Me series
 
"Marie Lu bursts onto the fantasy scene with a superb novel about power and what it means to embrace it even after being damaged by it. Love, action, magic, and more! My heart was pounding;  I couldn't turn the pages fast enough!"—Beth Revis, New York Times bestselling author of the Across the Universe series
 
"The Young Elites is the fantasy novel I've been longing for. Marie Lu has crafted rare, irresistible characters and a world of endless, thrilling intrigue. Here begins an immersive, unforgettable adventure."—Andrea Cremer, New York Times bestselling author of The Inventor's Secret and the Nightshade series


Praise for The Rose Society:
A #1 New York Times bestseller!

★ "A tightly woven tapestry of a story that ensnares even as it disturbs."—Booklist, starred review

★ "Lu constructs a fascinating triangle of opposing forces seeking power, and the ensuing twists and epic battles leave many dead, broken, or forever changed."—Publishers Weekly, starred review

"Original and sobering, Adelina is an antihero of nigh-unremitting darkness: an unusual young woman in the mold of such archetypes as Lucifer, Macbeth, and Darth Vader."—Kirkus Reviews

"Teens will be fascinated to watch the main character descend into villainy and revel in it."—School Library Journal