The 5th Wave: The First Book of the 5th Wave Series (Paperback)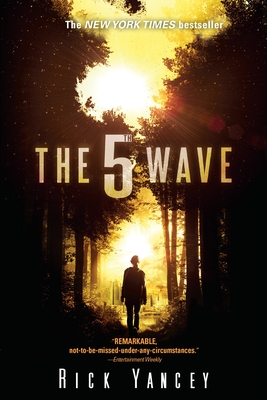 $12.99

Usually Ships in 1-5 Days
Other Books in Series
This is book number 1 in the The 5th Wave series.
Description
---
The #1 New York Times Bestseller, now a major motion picture starring Chloë Grace Moretz

The Passage meets Ender's Game in the first book in an epic series by award-winning author Rick Yancey.

"Remarkable, not-to-be-missed-under-any-circumstances."—Entertainment Weekly

"A modern sci-fi masterpiece . . ."—USAToday.com

After the 1st wave, only darkness remains. After the 2nd, only the lucky escape. And after the 3rd, only the unlucky survive. After the 4th wave, only one rule applies: trust no one.

Now, it's the dawn of the 5th wave, and on a lonely stretch of highway, Cassie runs from Them. The beings who only look human, who roam the countryside killing anyone they see. Who have scattered Earth's last survivors. To stay alone is to stay alive, Cassie believes, until she meets Evan Walker. Beguiling and mysterious, Evan Walker may be Cassie's only hope for rescuing her brother--or even saving herself. But Cassie must choose: between trust and despair, between defiance and surrender, between life and death. To give up or to get up.

"Wildly entertaining . . . I couldn't turn the pages fast enough."—Justin Cronin, The New York Times Book Review

An Amazon Best Book of the Year
A New York Times bestseller
A USA Today bestseller
Winner of the 2014 Red House Children's Book Award 
2014 Children's Choice Book Awards Finalist for Teen Book of the Year
A YALSA 2014 Best Fiction for Young Adults
A YALSA 2014 Quick Picks for Reluctant Young Readers
A Booklist 2014 Best Fiction for Young Adults
A VOYA 2013 Perfect Ten

Books in the series:

The 5th Wave (The First Book of The 5th Wave)
The Infinite Sea (The Second Book of The 5th Wave)
The Last Star (The Third Book of the The 5th Wave)
About the Author
---
Rick Yancey (www.rickyancey.com) is the author of the New York Times bestseller The 5th Wave, The Infinite Sea, several adult novels, and the memoir Confessions of a Tax Collector. His first young-adult novel, The Extraordinary Adventures of Alfred Kropp, was a finalist for the Carnegie Medal. In 2010, his novel, The Monstrumologist, received a Michael L. Printz Honor, and the sequel, The Curse of the Wendigo, was a finalist for the Los Angeles Times Book Prize. When he isn't writing or thinking about writing or traveling the country talking about writing, Rick is hanging out with his family.
Praise For…
---
A New York Times bestseller
A USA Today bestseller
 
Winner of the 2014 Red House Children's Book Award 
2014 Children's Choice Book Awards Finalist for Teen Book of the Year
A YALSA 2014 Best Fiction for Young Adults
A YALSA 2014 Quick Picks for Reluctant Young Readers
A Booklist 2014 Best Fiction for Young Adults
A VOYA 2013 Perfect Ten
An Amazon Best Book of the Year

"Remarkable, not-to-be-missed-under-any-circumstances."
—Entertainment Weekly

"It has the dark, swoopy adrenaline of The Hunger Games, but the elegiac tone of The Road. Who cares what shelf you find it on? Just read it."
—EW.com

"Makes for an exhilarating reading experience."
—Tor.com

"Wildly entertaining.... I couldn't turn the pages fast enough."
—Justin Cronin, The New York Times Book Review

"A modern sci-fi masterpiece... should do for aliens what Twilight did for vampires."
—USAToday.com

"Step aside, Katniss."
—The Cleveland Plain Dealer

"Action-packed intrigue."
—MTV.com

*"Gripping!"
—Publishers Weekly, *starred review*

*"Nothing short of amazing!"
—Kirkus Reviews, *starred review*

*"Yancey's heartfelt, violent, paranoid epic, filled with big heroics and bigger surprises, is part War of the Worlds, part Starship Troopers, part Invasion of the Body Snatchers, and part The Stand . . . a sure thing for reviewers and readers alike."
—Booklist *starred review*

"This is DAMN and WOW territory.  Quite simply, one of the best books I've read in years."
—Melissa Marr, New York Times bestselling author

"Breathtakingly fast-paced and original, The 5th Wave is a reading tsunami that grabs hold and won't let go.  A postapocalyptic alien invasion story with a smart, vulnerable heroine."
—Melissa De La Cruz, New York Times bestselling author of the Blue Bloods series

"A fantastic read. The 5th Wave is an electrifying page-turner."
—Kathy Reichs, New York Times bestselling author

"Prepare to set everything else aside when you launch into this one. The break-neck pace and high stakes will draw you in, but it's the characters who will keep you turning pages. It's been a long time since I've read a story this compelling."
—Cinda Williams Chima, New York Times bestselling author

Other awards for Rick Yancey:

The Monstrumologist Series: Printz Honor Book, YALSA Readers' Choice List – Best Book for Young Adults, Kirkus' Best Teen Books, Booklist Editors' Choice for Youth, Los Angeles Times Book Award Finalist—Best Young Adult Literature, Tayshas Reading List (Texas Library Association), NCTE's Walden Book Award Finalist, Garden State Teen Book Award Nominee, Teen Choice Book of the Year Nominee, Pacific Northwest Library Association Young Readers Choice Award Nominee
The Alfred Kropp Series: A Publishers Weekly Best Book of the Year, A Book Sense Pick Best Books of the Year, A BookBrowse Recommendation, A Texas Lone Star Reading List Selection, A Sunshine State Readers List Selection, Featured Author/Book - Scholastic Book Fairs , Nominated for the Carnegie Medal (U.K.), Nominee for the Grand Canyon Reader Award