Peace, Locomotion (Paperback)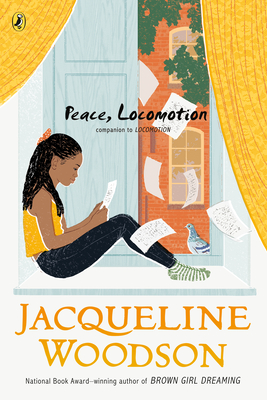 $8.99

Usually Ships in 1-5 Days
Description
---
The stunning companion to the National Book Award finalist--from a four-time Newbery Honor winning author

Twelve-year-old Lonnie is finally feeling at home with his foster family. But because he's living apart from his little sister, Lili, he decides it's his job to be the "rememberer"—and write down everything that happens while they're growing up. Lonnie's musings are bittersweet; he's happy that he and Lili have new families, but though his new family brings him joy, it also brings new worries. With a foster brother in the army, concepts like Peace have new meaning for Lonnie.Told through letters from Lonnie to Lili, this thought-provoking companion to Jacqueline Woodson's National Book Award finalist Locomotion tackles important issues in captivating, lyrical language. Lonnie's reflections on family, loss, love and peace will strike a note with readers of all ages.
About the Author
---
Jacqueline Woodson (www.jacquelinewoodson.com) is the recipient of a 2020 MacArthur Fellowship, the 2020 Hans Christian Andersen Award, the 2018 Astrid Lindgren Memorial Award, and the 2018 Children's Literature Legacy Award. She was the 2018–2019 National Ambassador for Young People's Literature, and in 2015, she was named the Young People's Poet Laureate by the Poetry Foundation. She received the 2014 National Book Award for her New York Times bestselling memoir Brown Girl Dreaming, which was also a recipient of the Coretta Scott King Award, a Newbery Honor, the NAACP Image Award, and a Sibert Honor. She wrote the adult books Red at the Bone, a New York Times bestseller, and Another Brooklyn, a 2016 National Book Award finalist. Born in Columbus, Ohio, Jacqueline grew up in Greenville, South Carolina, and Brooklyn, New York, and graduated from college with a B.A. in English. She is the author of dozens of award-winning books for young adults, middle graders, and children; among her many accolades, she is a four-time Newbery Honor winner, a four-time National Book Award finalist, and a three-time Coretta Scott King Award winner. Her books include Coretta Scott King Award winner Before the Ever After; New York Times bestsellers The Day You Begin and Harbor Me; The Other Side, Each Kindness, Caldecott Honor book Coming On Home Soon; Newbery Honor winners Feathers, Show Way, and After Tupac and D Foster; and Miracle's Boys, which received the LA Times Book Prize and the Coretta Scott King Award. Jacqueline is also a recipient of the Margaret A. Edwards Award for lifetime achievement for her contributions to young adult literature and a two-time winner of the Jane Addams Children's Book Award. She lives with her family in Brooklyn, New York.
Praise For…
---
* "Readers of Locomotion will welcome the chance to revisit Lonnie's world. . . . While his confusion, pain, and loss are at times palpable, so too are the moments of comfort, love, and sheer joy. . . . The small details of his days drop readers into his Brooklyn neighborhood, surrounded by characters who seem to walk right off the page. Moving, thought-provoking, and brilliantly executed, this is the rare sequel that lives up to the promise of its predecessor."
—School Library Journal, starred review
 
"A moving companion to the National Book Award Finalist Locomotion. . . . The spare, beautiful prose—both the dialogue and the fast first-person narrative—is as lyrical as the first book. The simple words are packed with longing and are eloquent about the little things people don't think real hard about, little things that reveal the big issues of family, community, displacement, war, and peace."
—Booklist
 
"Woodson creates a full-bodied character in kind, sensitive Lonnie. Readers will understand his quest for peace, and appreciate the hard work he does to find it."
—Publishers Weekly