The Civil Wars (Paperback)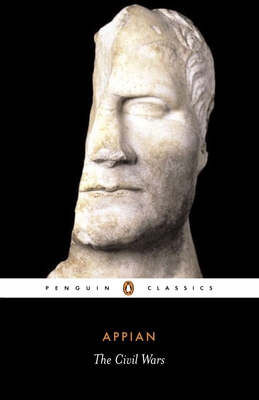 $20.00
Email or call for price.
Description
---
The only suriving continuous narrative source for the events between 133 and 70 BC
Appian's writings vividly describe Catiline's conspiracy, the rise and fall of the First Triumvirate, and Caesar's crossing of the Rubicon, defeat of Pompey and untimely death. The climax comes with the brith of the Second Triumvirate out of anarchy, the terrible purges of Proscriptions which followed and the titanic struggle for world mastery which was only to end with Augustus's defeat of Antony and Cleopatra.
If Appian's Roman History as a whole reveals how an empire was born of the struggle against a series of external enemis, these five books concentrate on an even greater ordeal. Despite the rhetorical flourishes, John Carter suggests in his Introductions, the impressive 'overall conception of the decline of the Roman state into violence, with its sombre highlights and the leitmotif of fate, is neither trivial nor inaccurate.'

For more than seventy years, Penguin has been the leading publisher of classic literature in the English-speaking world. With more than 1,700 titles, Penguin Classics represents a global bookshelf of the best works throughout history and across genres and disciplines. Readers trust the series to provide authoritative texts enhanced by introductions and notes by distinguished scholars and contemporary authors, as well as up-to-date translations by award-winning translators.
About the Author
---
Appian was born into the privileged Greek upper class of Alexandria, probably about A.D. 95. He rose to high office in his native city, and appears to have practised law at Rome, where he made the aquaintance of Fronto and pleaded in cases before the emperors Hadrian and Antoninus Pius. He composed his Roman History between c. A.D. 145 and 165, at the height of the period which Gibbon called 'the golden age of the Antonines.'

John Carter retired from a Senior Lectureship at Royal Holloway college, University of London, in 1992. He collaborated with Ian Scott-Kilvert on Cassius Dio's The Roman History(1987) for Penguin Classics, and other published work includes a history of Augustus' rise to power, The Battle of Actium (1970), and editions of Suetonius' life of Augustus, Divis Augustus (1982), and of Julius Caesar's own account of his war with Pompey, Civil War (2 vols., 1991 and 1993).